Homemade Glass Cleaner
I don't know about you, but every time I bust out the glass cleaner and start spraying it around I cringe away from it's falsely blue mist and I cover my mouth and nose with my shirt. I finally got tired of acting so ridiculous every time I have some glass to clean, so I decided to make my own homemade diy glass cleaner that is chemical free, doesn't make me cringe away from it in fear, and most of all works.
I'm neither for nor against using alcohol in glass cleaner at this point. Personally I think it will probably help to reduce streaking because it evaporates more quickly than water. For the sake of including all options here is a simple to make glass cleaner.
Also, I don't want to go to a liquor store (grocery stores don't sell hard alcohol in Oregon) just to buy vodka for some homemade glass cleaner, and I'm sure I'm not the only one who feels that way. Plus, I like the simpler solutions, so here it is.
This glass cleaner is great for everything you'd use a store-bought glass cleaner for: windows in your home, mirrors, or even some metal like faucets. The good news is that it does all that while being completely animal and kid friendly. Now, here's how to make glass cleaner!
Time: 2 minutes

– Ingredients –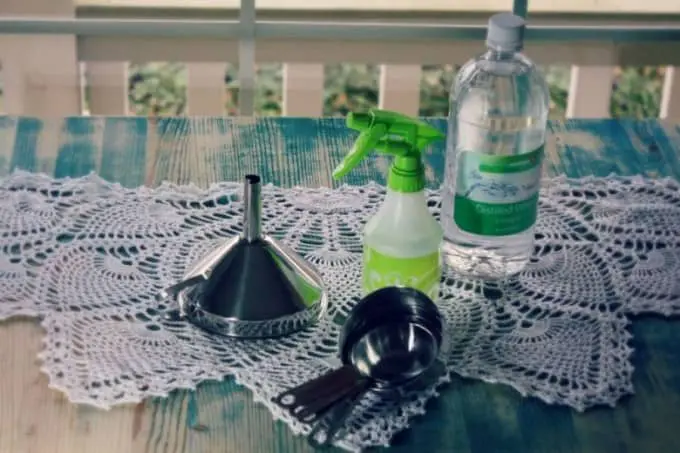 Here's what you need to make your own diy glass clean:
water
white vinegar
spray bottle
funnel (optional, but helpful)
– Step One –
1 Part White Vinegar
Add 1 part vinegar to the bottle or mixing bowl that you are preparing your mixture in. If you are going to completely fill your container you can simply fill it half full to save on measuring.
I am pouring my ingredients straight into my spray bottle, which I would have spilled every where if I didn't have my handy funnel, which I highly recommend you use.
Vinegar is what is doing the cleaning in this recipe. Vinegar is a mild, but safe acid(it is used in cooking and we eat it). Because it is an acid the vinegar will dissolve and remove grime from whatever it is you're trying to get clean.
Vinegar is also antimicrobial which means that it kills bacteria, mold, and germs. This means that it won't just remove dirt, or simply dissolve it and spread it around leaving nasty germs behind. This glass cleaner will kill the germs on what you're cleaning. It wouldn't really be worth calling glass cleaner if it didn't though right? ;)
– Step Two –
1 Part Water
Add in 1 part water, it doesn't really matter how much as long as it is roughly equal to the amount of vinegar that you used. If you've opted to completely fill your spray bottle just fill the container the rest of the way with water.
This glass cleaner is great because you don't need to worry about the measurements too much. All you have to do is add the same amount of both ingredients.
The water is essential in this recipe because it dilutes the vinegar down which is important because the vinegar is an acid. Left undiluted the vinegar might be too acidic for some surfaces.
– Step Three –
Mix
If you are preparing your mixture outside of a spray bottle give it a quick stir to mix the vinegar and water together, and then pour the mixture into your spray bottle, and you're ready to use it.
– Step Four –
Use It!
All you have to do now is use it like you would use any other glass cleaner. This homemade glass cleaner isn't quite as strong as those you would find in the store because it lacks some of the more harsh chemicals those use to clean.
You might want to let the glass cleaning spray soak in a little bit. I find that if I let the spray soak on the glass surface for twenty to thirty seconds it works the best as the spray has time to break down all the grime.
– Scenting –
I did a little scenting test with my glass cleaner, and added a few drops of essential oil. Unfortunate the vinegar smell is very strong and for the most part overwhelmed the pine essential oil that I used. A stronger essential oil might work better, but I don't know if it would be worth it with this particular glass cleaning spray. Also since essential oils are oil I would be slightly concerned that the oil might end up making the mirror oily if too much was added to the spray. For now I'm leaving it out.
– How's It Work –
In my opinion this homemade glass cleaner works well enough. It's not as strong as those from the store, but it gets the job done. Best of all I can spill it anywhere, or even accidentally spray some in my mouth(don't do it, it's not recommended) without ever having to worry about it. The spray is totally safe around children and animals.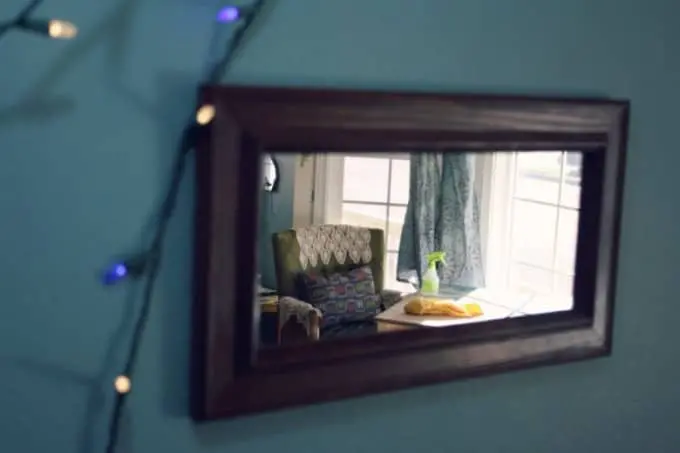 *****
Go and give this homemade glass cleaner a shot. Let me know how it works out for you, and if you liked the post please share it on Facebook, Pinterest, or anywhere else you can imagine.
-Lance
Basic Homemade Glass Cleaner (Alcohol-free)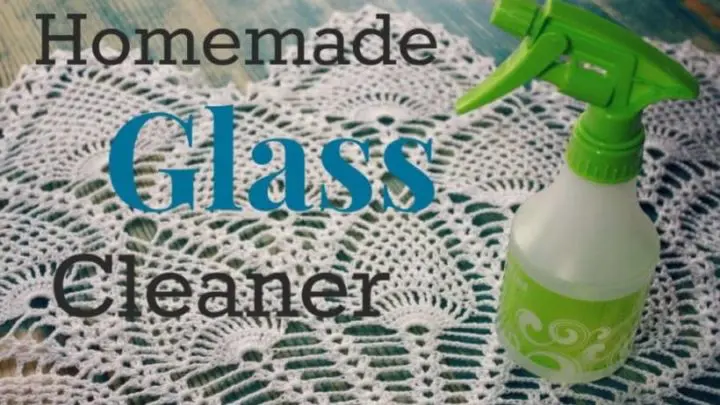 Here's how to make your own homemade glass cleaner with only vinegar and water. This homemade glass cleaner is chemical free and safe for the whole family.
Tools
Spray Bottle
Funnel (optional, but helpful)
Instructions
Using a funnel pour 1 part white vinegar into spray bottle.
Pour in an equal amount of water for a 50/50 mixture.
Replace spray top and give the mixture a swirl to mix.
Spray onto glass surface, let sit for 20-30 seconds, then wipe away.