How to Make Your Own Scented Votive Candles
I love a good scented candle, but they're so darn expensive, so I decided to make my own diy scented candle. These scented candles are super simple to make and you can make them in any scent you want. The best thing is if you burn up all your scented candles you can make another one in only a matter of minutes.
Time: 5 minutes
– What You Need –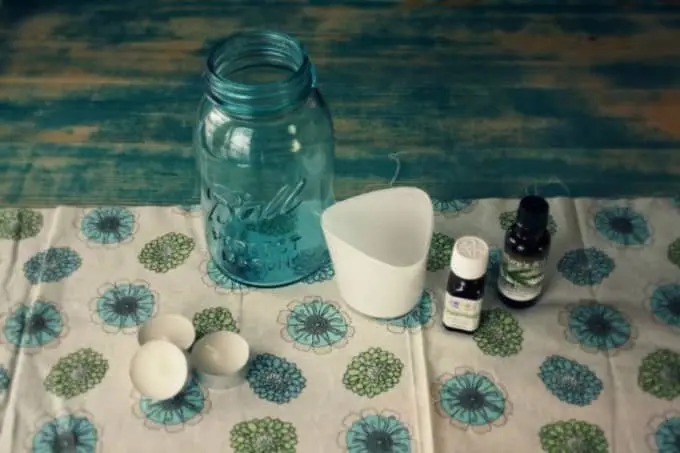 Here's what you need to make your very own diy scented candles…
votive candle
essential oil
fire
– Step One –
Melt The Wax
Light your votive candle and let the wax melt as much as possible. It took my votive candle 30 minutes to get good and melted.
Just keep an eye on your candle and when it looks something like the picture on the right, you're good to go.
– Step Two –
Blow it out
After the wax has mostly melted blow out the candle. This is very important as essential oils can be very flammable when they come into direct contact with flame.
A Warning: Be extremely careful, and follow my instructions closely. Some essential oils are very flammable and should never come into contact with an open flame in their pure form. As an example, my pine essential oil immediately burst into flame when added to a burning candle. I lost a few hairs figuring that one out.
– Step Three –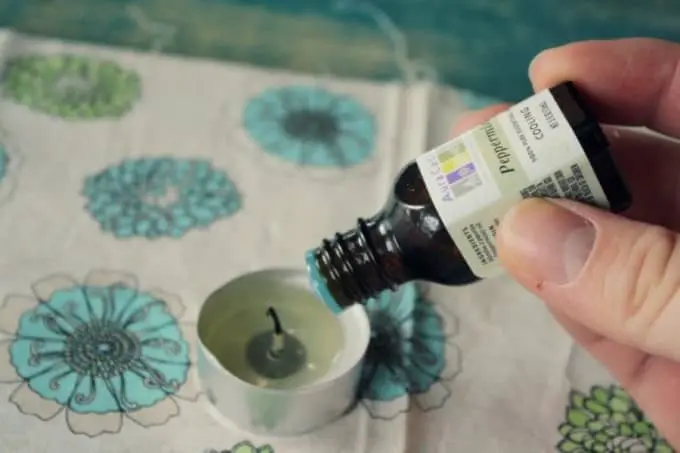 Add 5-8 Drops Essential Oil
Add between 5-8 drops of essential oil to the votive candle. For mine I used peppermint essential oil. As with most essential oil things use as much or as little as you like.
Because the wax is very hot the essential oil will heat up and disperse evenly into the wax.
It might take some trial and error to find essential oils that will work well for this. I tried doing the same thing with pine essential oil and all I got for that effort was a little bit of a burning smell. I'm not quit sure what the difference is chemically between the two, but my peppermint essential oil works just fine for this. If you want to send any sort of smell into the air try out my homemade essential oil diffuser in a cup.
– Step Four –
Mix
You can give the candle a little, I mean very small, jiggle if you want to help the essential oils mix into the wax. Be careful not to slosh the wax though, I don't want you to burn yourself.
– Step Five –
Light it Up
That's it, now you can safely relight your votive candle, and you've got a quick and easy scented candle without having to make your own from scratch.
– How's It Work –
I think that this diy scented candle trick works great. It's not as good as a really nice scented candle, but it does the trick. Right now my little votive candle is filling my living room with the smell of peppermint and that's just what I wanted it to do.
Although this works great, I will probably just use my candle warmer essential oil diffuser because it is even fast and easier to use.
*****
That's it, see I told you it was easy. If you like this post please share it on Facebook or Pinterest, and leave a comment if you've got questions or just to say hello.
-Lance