Eco-friendly Chip Clip Alternatives
Chip clips are great, really, they keep your crunchy things crunchy fighting the good fight against staleness day in and day out. The problem for me is that in general the majority of chip clips are plastic.
Personally, I moved away from using plastic chip clips awhile ago and not even really on purpose. I don't remember how, but one day I just started using a binder clip to keep my chips crispy fresh and the habit has stuck with me ever since.
Instead of buying plastic chip clips or other bag closing gadgets here are some great alternatives you can use as a diy chip clip instead!
The Case Against the Plastic Chip Clip
On the other hand we have had plastic chip clips that have broken within only a couple of months of use. I have had plastic chip clips with little magnets in the clip that have fallen out within days of buying them.
I worry about breaking them, because I have broken them by squeezing them to hard trying to fit it onto something I couldn't possibly hope to fit it on realistically.
And then there is the environmental side of things. The more we can reduce plastic usage and embrace long lasting recyclable or compostable products instead the better!
With that in mind, here are a couple of great chip clip options that are super affordable, long lasting, and recyclable at the end of their life.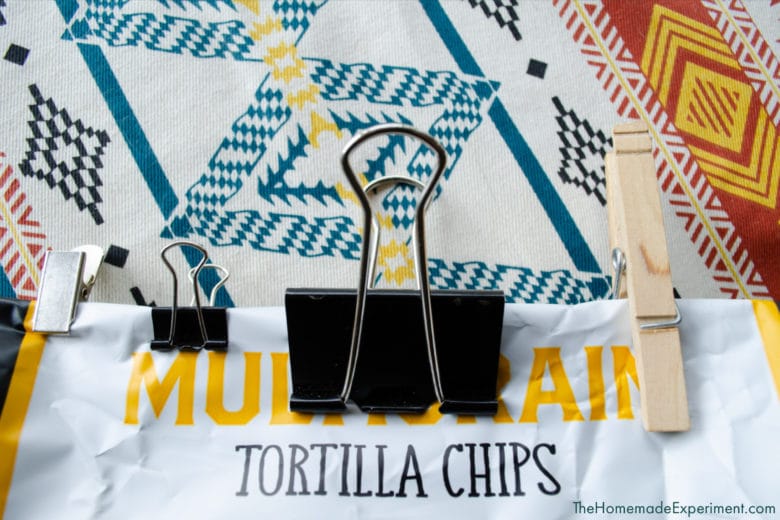 Binder Clips
In my opinion, Binder Clips are by far the best chip clip option. These things are super strong and can hold anything together. They make a perfect large metal chip clip! are a great large chip clip option.
They are super versatile I use them on chip bags, bags of frozen vegetables in the freezer, we use them to hang cards from a string of fairy lights in our living room, and we use them to hang and dry out our reusable sandwich bags before putting them away.
I also saw a neat little trick where you can clip it on the bottom of a card or a picture and remove the arms making a handy little picture stand in a pinch.
The all metal design makes binder clips a great chip clip option because they are much sturdier than their plastic cousins common in the grocery store. Plastic will also tend to get more brittle after being exposed repeatedly to extreme temperatures like being in the freezer. These are a great unbreakable chip clip option!
I have been using binder clips for years to keep my bags closed and I have literally never had one break. Bottomline, binder clips are affordable and last forever(probably not literally, but we'll see!). These also come in a rang of sizes (mini, small, medium). I personally have some small ones which work well on things like small bags of frozen vegetables and large ones which are perfect for chip and other similar large sized bags.
X-Acto Bulldog Clips
Another great large chip clip option these X-Actor bulldog clips are very similar to the binder clips above. They are an all metal design and are super durable.
The downside to these is that the arms can't be removed or folded up and down like the arms on the binder clips are able to. This usually isn't a deal breaker, but in some cases it might matter.
I also really like that they have a hole in the arm so that you can attach the clips to something or hang them up as well.
These are a great back up option if binder clips are not available.
Natural Wooden Clothespins
Clothespins are another really great bag or chip clip option. I love how they look and I have some fond memories of them from when we would hang our pool towels on the line to dry at my grandparents house when I was a kid.
My grandma was already getting creative with bag clips back then. She would use extra clothes pins as chip clips in her kitchen as well.
I have to say they work great. They are super handy, and very durable, although, since they are partially made out of wood they can break more often than the all metal alternatives I have already mentioned.
If you can find natural untreated wooden clothespins then you will also be able to disassemble them and recycle the metal and compost the wooden pieces if they ever break. If you are looking for a wooden chip clip option these are the way to go!
Wooden Slotted Clothespins
These are another solid option from the world of clothes hanging. Slotted clothespins make a great all wood chip clip option if that is what you are looking for!
These don't clip down all the way and they don't open much, but they can work great for larger sized bags.
If you have something like a chip bag, fold over the top several times until it fits snuggly into the slot on the clothespin and your all set!
Small Alligator Clips
Last, but not least is the small alligator clip. I got a couple of these a few years ago when I received some coffee as a gift. They were used to fasten the bags closed. I kept them and have been using them ever since as small metal chip clips in my kitchen.
These again are all metal and surprisingly durable for their size. These work really well on smaller bags where a larger chip clip or binder clip would just be too much.
---
Well that's about it for these chip clips! Let me know if you have any other great non-conventional or green chip clip options in the comments.
Lance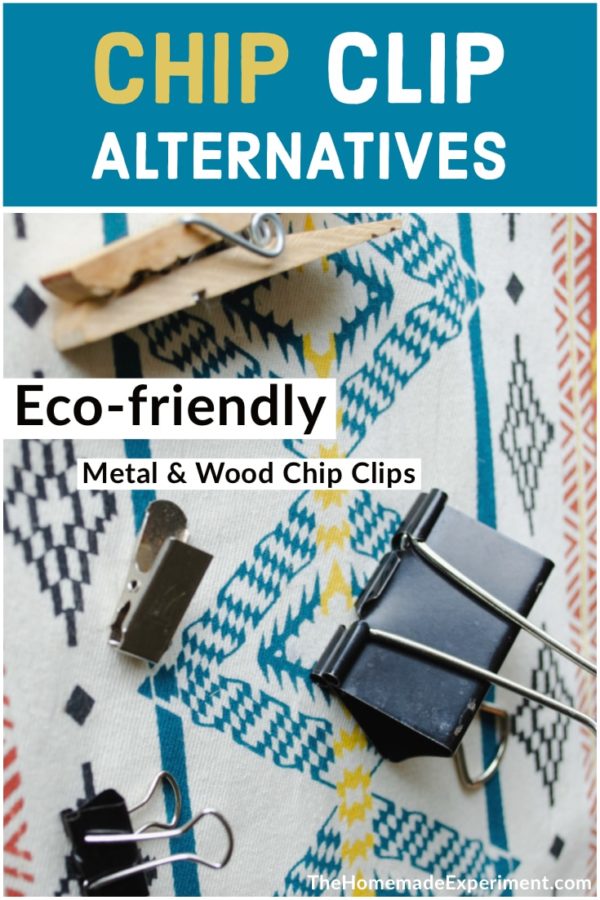 Last update on 2022-11-06 / Affiliate links / Images from Amazon Product Advertising API