Homemade Baking Soda Pot and Pan Scouring Paste
I'm always looking for new homemade cleaners that are simple, easy to make, and chemical free. I especially love baking soda cleaners because they are so simple, and every time I try something new I'm amazed by how well it works!
Here is a quick and easy way of using baking soda to clean burnt pans as a diy scouring powder that will get your pots and pans gleaming in no time flat(it will actually take time).
Baking soda used to be a widely used cleaner. However, in recent years chemical loaded products have replaced older and more simple solutions like baking soda.
Related Posts
Uses for Baking Soda Around the Home
Ingredients & Gear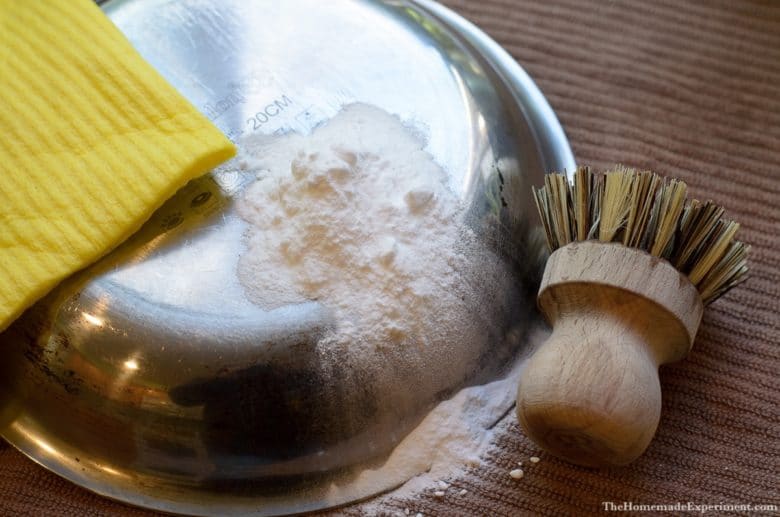 This one is very simple! Grab yourself the following:
Grab your Baking Soda!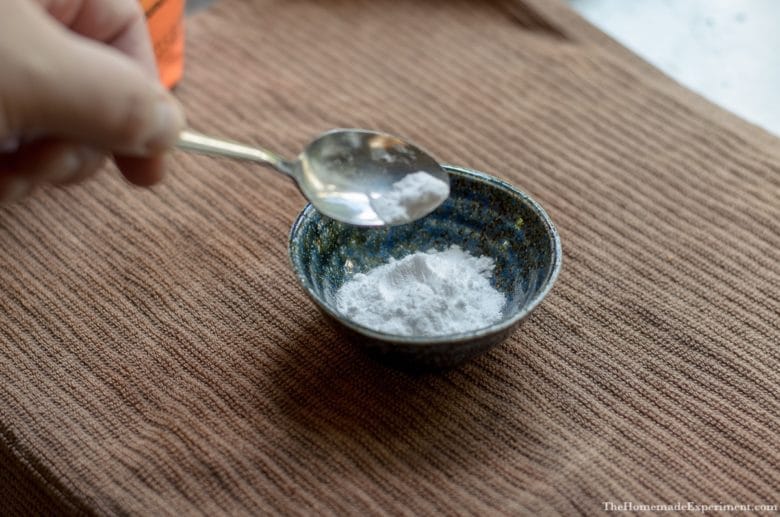 For this I am using just a little bit of baking soda. Arm&Hammer or Bob's Red Mill will both work great for this.
You don't need to be too careful in how much you use. I am using approximately 1 tablespoon of baking soda in my batch.
In this homemade scouring powder the baking soda does all of the heavy lifting. Baking soda is a great abrasive since it is tough enough to scrub off gunk, but not so hard that it will damage most materials as long as you don't push too hard.
This is also why it can be used to scrub so many different things and be used as a diy baking soda toothpaste, homemade baking soda body scrub, diy toilet bowl cleaner, and soooo much more!
Add in Water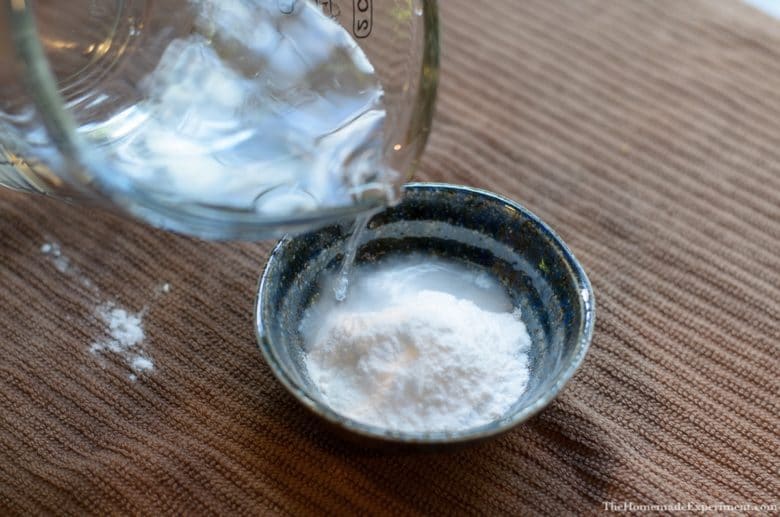 Next grab yourself some water and slowly add it to your baking soda. This will only take about 1 teaspoon of water to get to the right consistency.
If you add too much water you will not end up with an effective solution for scrubbing.
Mix into Paste
Grab yourself a handy dandy brush. In my case I am using this pot scrubber from Redecker that I use all the time!
Stick your brush into your water and baking soda and give it a good mix!
What you are looking to make is a thick paste. Something that you can easy pick up with your brush or cloth that can be smeared around for some sweet sweet scrubbing action.
Essentially, if its too running and thin you won't get enough baking soda in one spot to effectively scrub aka scour.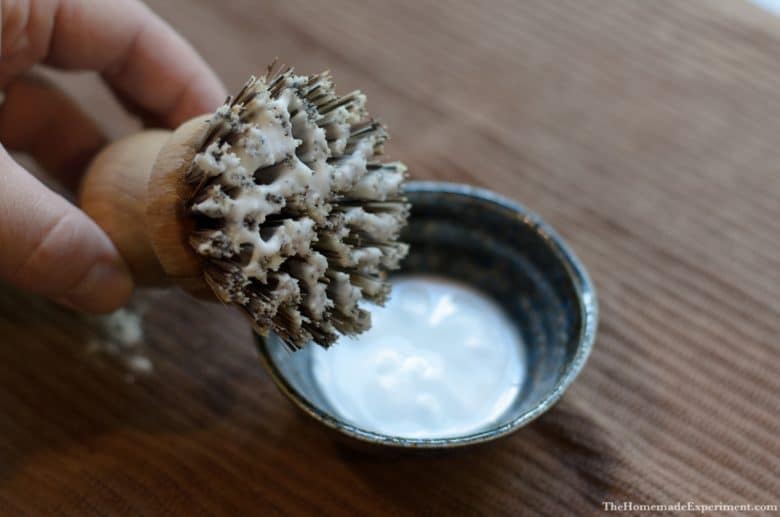 Scrub your Pan
Or pot, your choice really. Here's how to clean pots and pans with baking soda!
First give your pot a good cleaning with soap and water. We want to make sure that we remove as much grit and oil as we can before we start scouring.
Pick up some of your scouring paste with your brush and start scrubbing in small circles.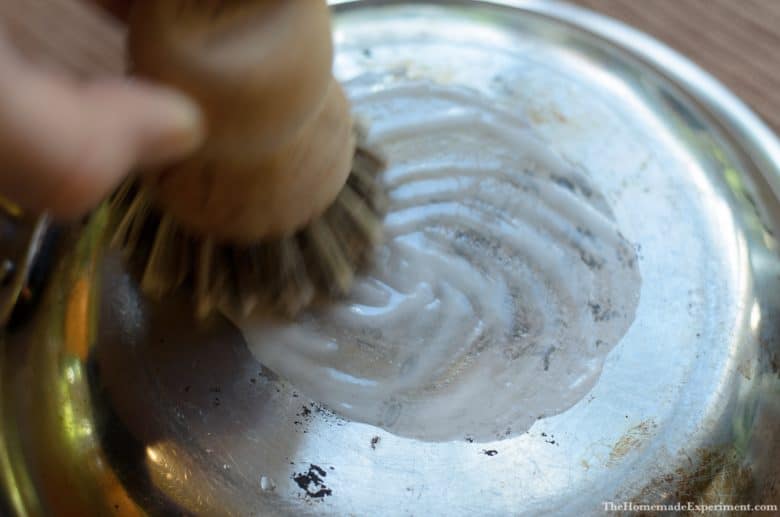 You will be able to get off the majority of those cooked on burnt bits with your brush and baking soda scouring paste.
But, if you can't get them all like me, then just grab your cloth, dab it in the scouring paste, and keep going with those small circles.
I was able to get most of the burnt bits of with my brush, but using a cloth really allows you to get the last of those stubborn bits.
For this step I am using one of the best unpaper towel options, Wowables(my review). They are basically like super strong, absorbent, and washable paper towels.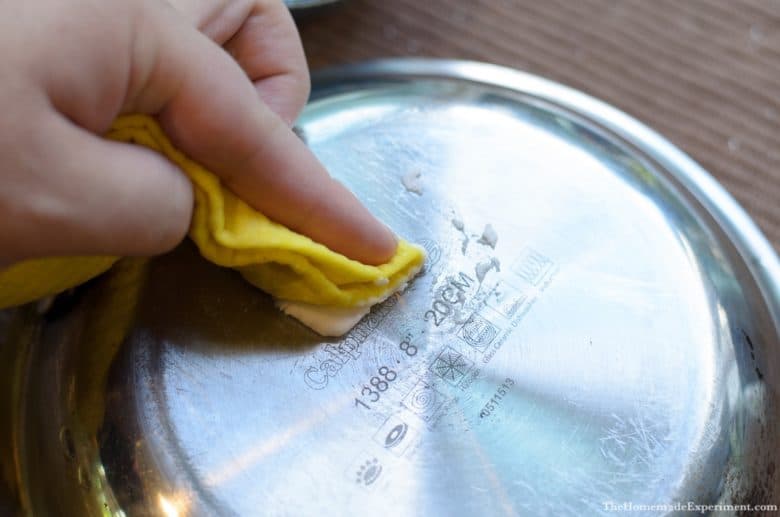 How well does baking soda scouring powder work?
You tell me! Well, I will tell you what I think too, but look at these before and afters.
Before
After
I'd say that worked pretty darn well! Please ignore all the scratches though. I am definitely rough on my pans and those scratches were there before I gave them a scour. They just show up more now that the pans are so clean!
Baking soda scouring powder will get your pots and pans new and shiny again in a matter of minutes. It's easy, fast, and you don't have to use any strong chemicals. That makes baking soda the perfect homemade scouring powder for me.
*****
That's it for this one! I hope you have great results too when scouring your pots and pans with baking soda. It is seriously satisfying to see them shinning once you're finished!
Let me know how well this works for you in the comments and let me know if you have any other scouring or pot cleaning tricks!
Lance
Last update on 2022-11-06 / Affiliate links / Images from Amazon Product Advertising API