Already in the aromatherapy crew with homemade diffusers and lovely scented air fresheners but want to take those great smells with you on the road? Learning how to use a diffuser bracelet is a great way to diffuse essential oils on the go in no time.
Diffuser bracelets come in many different styles and shapes suitable for any look or lifestyle. Unless you're just not a bracelet person. I'm not usually a bracelet person myself, but hey if the bracelet smells this good I'll be wearing one more often!
What to look for in a diffuser bracelet
When buying a diffuser bracelet you want to make sure that it is fairly absorbent. For example leather can do a decent job of absorbing oils. Or, you want to find a stone, most often lava stones, that have a lot of cracks and crevices for the oils to soak into.
The diffuser bracelet that I am using is this tiger eye lava stone diffuser bracelet. However, there are many different options for out there so you can find one that suites you and your style! Here are few other options from Amazon to give you an idea of what's out there.
There are a bunch of different diffuser bracelet options available so shop around and find something you'll love wearing!
Select your diffuser bracelet essential oil
Next you need to pick out the essential oil(s) that you want to diffuse on the go.
Lavender essential oils are a great option I find that it has a very calming and soothing effect on me. I like lavender a lot for de-stressing!
Dilute the essential oil
We are not applying the oil directly to our skin when we use a diffuser bracelet. But, we are definitely going to get some direct skin contact with a beaded bracelet like the one I have chosen. For that reason it is a good idea to dilute the essential oil to a level where it is safe for use directly on the skin.
We will be mixing 18 drops of essential oils with 1 oz. of carrier oil. In this recipe I am using fractionated coconut oil, but you can also use something like sweet almond oil. This will create an oil that is about 3% essentials oils and appropriate for use directly on skin.
Combine and mix 1 oz. sweet almond oil and 18 drops of essential oils together in a small dropper bottle.
Your diffuser bracelet oil is now ready for use!
Note: Be sure to test your oil on a small patch of skin and watch for any signs of redness, itchiness, or general irritation before using it on your bracelet.
Apply the diluted diffuser oil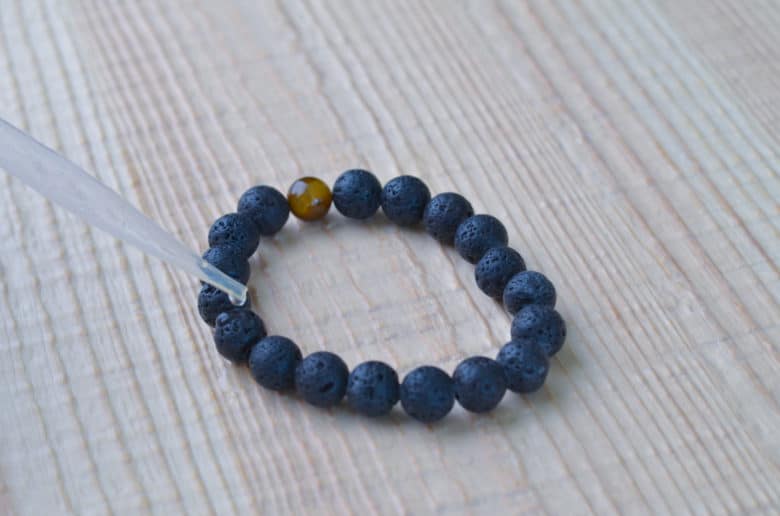 Ok, I bet you know where this is going by now, but here goes anyway!
Using a dropper or pipette apply a few drops of the diluted oil to the bracelet. I like to apply 1 drop per bead on 3-5 beads to start and see how I like the fragrance.
If the scent is not strong enough you can always add more ass needed.
Diffuser your heart out!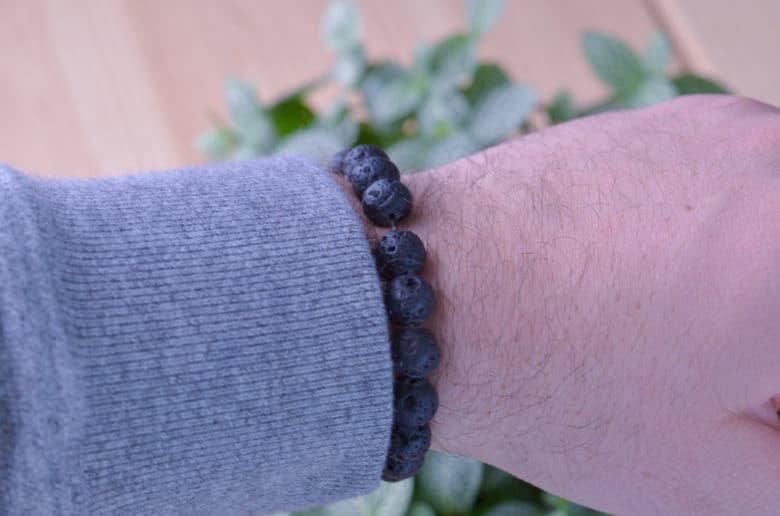 Rock that bracelet and enjoy those essential oil scents all over town.
Last update on 2022-11-06 / Affiliate links / Images from Amazon Product Advertising API