In my endless battle against bad smells, wherever they may be hiding, I decided to find a way to remove odors from my fridge by making my own homemade fridge deodorizer.
I've used baking soda from time to time to deodorize my fridge over the years, but have never been super impressed with it. At best it seemed to make my fridge only slightly less smelly and never had as much of an impact as I was hoping for in the fight against odor.
We don't have a super smelly fridge, but sometimes some especially smelly leftovers will find their way into the fridge. And sometimes they get forgotten. And their odors mingle with other forgotten leftovers to product a cocktail of smells so off-putting I will decide going hungry is the far better option than braving my refrigerator.
For that reason, and just generally wanting not to be gross, I decided to try to find a better odor buster for my fridge.
I was inspired to make a charcoal fridge deodorizer after running across some Japanese deodorizers online (similar to ). The Japanese ones sounded pretty neat, but I read through the ingredients on a few of those fridge deodorizers and in general they use a lot of charcoal for odor absorption.
I also saw a mention of using charcoal to deodorize your fridge on Apartment Therapy so I thought to myself, "I have a big bag of charcoal powder laying around so I should give it a shot." And I did!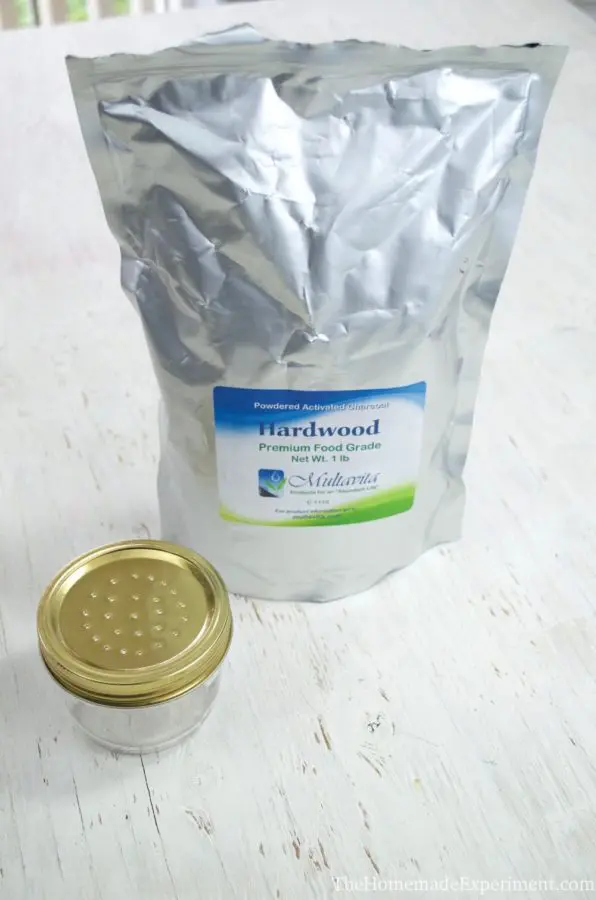 Charcoal Fridge Deodorizer Ingredients
This fridge deodorizer only requires a couple of things to get it made (links are to Amazon products.)
Ok, time to show you how to make a charcoal fridge deodorizer!
Prep Your Container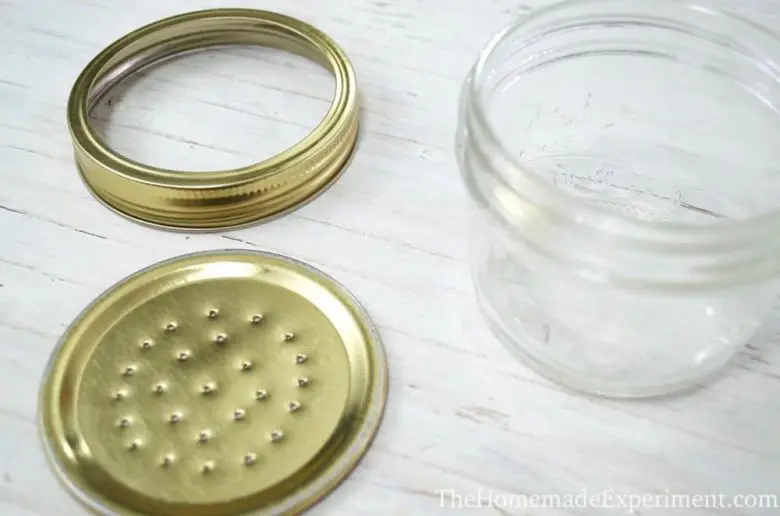 For this post I will be making a quick smaller version of a mason jar shaker for my homemade fridge deodorizer. Ultimately, we won't be using this as a shaker, but, the tiny holes in the lid will allow air in the fridge to circulate into the container where it can be absorbed by the charcoal.
Alternatively, for the lid, if you don't want to pound away with a hammer, you can use a mason jar daisy lid instead. Or even one of these obnoxiously cute leaf lids as well. Personally, since this charcoal powder can get everywhere I am going for some smaller holes that are much less likely to let any of the charcoal dust escape when I jostle it around (read: knock it over on accident without even noticing) in the fridge.
If you do decide to go with one of the lids with larger holes just be a bit more careful about placement in the fridge and make sure to keep it out of reach of children, or clumsy humans of any size, to avoid having to clean a black coating of charcoal dust from every surface in your fridge as well as the clumsy fridge goer.
Charcoal Time
Next snag yourself a tablespoon and add 3 tbsp activated charcoal to your storage container of choice. This is an "ish recipe" so anywhere close-ish is fine!
Just don't be like me and try to eyeball it by pouring the charcoal powder out of the bag. If you have my luck a big chunk of powder will break free and roll out of the bag to burst in the container sending a small mushroom cloud of charcoal dust into the air, and your face.
I am using an activated hardwood charcoal powder that I had laying around which I have used previously in my charcoal shoe deodorizer sachets. Alternatively, if you want a more sustainable eco-friendly diy fridge deodorizer you can also use activated bamboo charcoal or even activated coconut charcoal instead.
Be careful! Activated charcoal powder like this is very fine and as you will see in the pictures it can get everywhere. The spilled charcoal powder is not there for artistic effect, although I think it does look nice, the charcoal just decided to go rogue and get everywhere.
Lid It & Fridge It
Screw on your holed mason jar lid and pat yourself on the back, you have made a quick and easy diy charcoal fridge deodorizer like a champ!
Now put your freshly minted fridge freshener in your fridge to do its deodorizing magic. I like to place mine on the top shelf in the back of the fridge. A door shelf is also a great option to keep it out of the way.
I have tried placing it in a drawer in the fridge as well, but it doesn't seem to do as good of a job in there since air doesn't circulate quite as well through the drawers. This may just be my fridge though so you might try it in your fridge if you know your drawers get pretty good air circulation.
That's it, now you can enjoy having an odor-free refrigerator.
I have had mine in the fridge for a couple of weeks now and have definitely noticed an improvement in the general smell of my fridge.
Like I said, my fridge isn't crazy smelly, but some of the pyrex containers and things that we use for storing leftovers are definitely not 100% airtight. This means that stronger smelling items in the fridge like tomato sauces or curries will end up making the entire fridge smell and when 2-3 delicious smells mingle they play the cruelest trick, instead of getting more amazing smelling, they smell absolutely terrible!
Charcoal Deodorizer FAQ
Will This Deodorizer Work in the Freezer too?
Yep! This will also work as a great freezer deodorizer too. I don't really have an issue with freezer odors personally, but if you do, give it a shot there as well!
Shake it Every Once in a While
Every once in a while, about once a week, give your deodorizer a little bit of a shake to circulate and expose fresh charcoal to help with efficient odor absorption. Be careful not to get too enthusiastic and shake the charcoal all over your fridge.
How long will it last?
This charcoal deodorizers will last for about a month before you need to replace the charcoal. You might get a little longer if your fridge is nice and clean and you aren't making the freshener work to hard.
How Well Does this Fridge Deodorizer Work?
Using charcoal as a fridge air freshener works really well. I noticed a general drop in odor in my fridge within two days.
You do need to keep in mind that fridge deodorizers are not super heroes. Even the mightiest fridge deodorizer cannot overcome the the overwhelming odors seeping from spoiled food or even strong smelling food in poorly sealed containers.
Maintaining an odor-free fridge is a combination of managing food spoilage, regular cleaning, well sealed food containers, and a handy charcoal fridge deodorizer to suck up any stray smells!
I hope you found this post helpful and that you have fun making your own charcoal fridge deodorizer! Let me know how it goes in the comments!
Thanks for reading,
Lance
Yield: 1 fridge deodorizer
How To Make Charcoal Fridge Deodorizer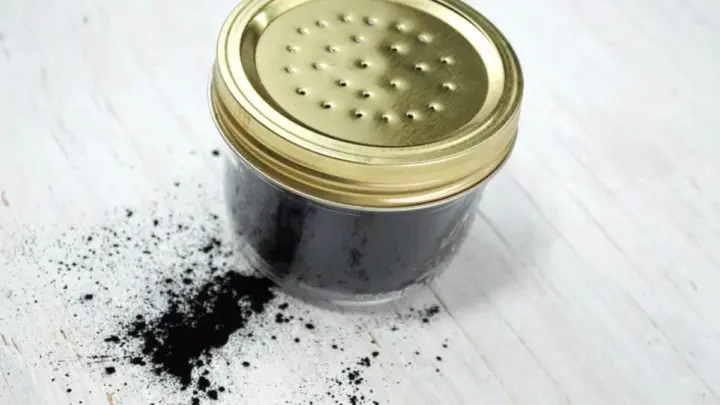 How to make your own charcoal fridge deodorizer using a little bit of activated charcoal powder and a mason jar!
Materials
Container Materials
4 oz. mason jar
Perforated mason jar lid
Fridge Deodorizer Ingredients
Instructions
Make yourself a quick small version of my mason jar shaker. This will give you a container that will let air circulate through it freely without being to easy to spill in the fridge.

Add 3 tbsp of activated charcoal into the mason jar.

Seal tightly with the perforated lid.

Tuck your freshly made deodorizer away in a safe corner of your fridge where it will not be easily knocked over.

Notes
That's it! Just leave the deodorizer in your fridge to do it magic. I personally leave one of these in my fridge all the time. You should be able to notice a decline in odors within only a day or two.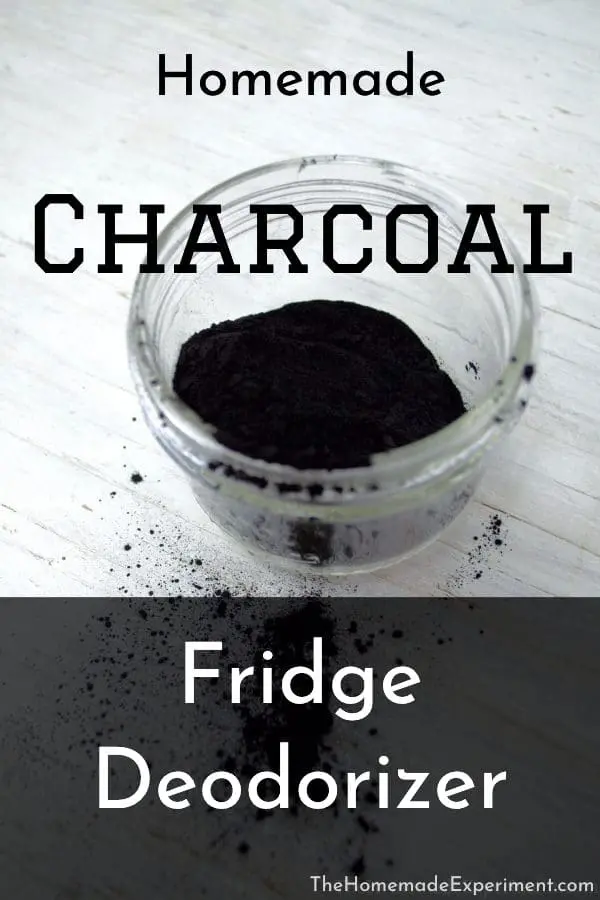 Last update on 2023-12-02 / Affiliate links / Images from Amazon Product Advertising API