A bottle brush is a kitchen tool that is usually a ways down most peoples wishlist. However, I have found that my wooden bottle brush has eased the pain (not actually painfully, doing the dishes just makes me dramatic) of doing the dishes especially when it comes to handwash only items.
I have been trying to do a much better job of buying zero waste products. The fact that this eco bottle brush is not just recyclable, but it's biodegradable and compostable make it a winner in my book!
The short answer, I recommend this plastic free beech and horsehair bottle brush from Redecker. This brush works great and has held up extremely well. Just look at the picture above, that's my 2 year old bottle brush still looking great. If you are looking for the long answer, then just keep reading!
This is a really great set for anyone looking for a plastic free vegan bottle brush instead. The natural bristles in this bottle brush are made from Tampico fibers. This set is manufactured by the bottle company Healthy Human and is geared specifically at water bottle cleaning.
It could be put to more uses than just water bottle cleaning, but if that's your primary use for a bottle brush then this set might be the right way top go for you.
Personally, the Redecker has been more than enough for me when cleaning our various water bottles.
Why get a bottle brush?
When I was a kid my family never had a bottle brush. I literally never had one until I bought the one used in this post 2 years ago. Although, by that time I had used a couple of plastic bottle brushes when visiting friends and family.
It's one of those things that you just feel like a dummy for never having gotten one before. A nice bottle brush makes washing certain dishes soooooo much easier and in my paranoid mind safer too.
Makes Washing Easier
Bottle brushes are great because a long handled bottle brush is able to reach the bottle of deep items like non-dishwasher safe glassware. This makes cleaning pint glasses and vases a breeze, no more cramming hands into tiny containers!
They are also very efficient at cleaning since they have a completely round brush. This lets you cram the brush deep down into an items and with a few quick twists get most grimy dishes clean in no time.
Keeps You Safer
This is a minor point, but I personal feel safer using a bottle brush. Instead of shoving one of my hands deep inside a thin cylinder of glass like a french press or a wine glass I can use my handy dandy bottle brush to get the job done and feel way safer in the process.
My Review of the Redecker Bottle Brush
And why I chose it…
I have to say, this is not a sponsored post by Redecker. I just really like their products, and this bottle brush has served me well!
I really like the Redecker bottle brush because it is a simple product sourced from natural materials and made by a company that focuses on craftsmanship and renewability.
More and more I am trying to buy fewer plastic goods and instead buy well made zero waste products that will last longer and not end up in a landfill. I recommend checking out their full selections of products as they are a great place to start when looking for all types of brushes and brooms.
This wooden bottle brush meets those criteria perfectly. It is an eco-friendly biodegradable bottle brush that easily compostable once it is worn out.
And to top it all off I think this thing looks and feels great to use. I especially love the natural untreated texture of the beech wood. The brush is very sturdy, I feel very comfortable applying quit a bit of pressure without being afraid that the brush will break.
I know it's just my opinion, but I'm not one for bright purple or green plastic brushes laying around my sink so this is perfect on the looks front for me.
Are the Horsehair Bristles Weird?
Nope not at all. These bristles are soft yet firm and really do a great job of being gentle while being very effective at scrubbing things clean.
Seriously though before the age of plastic animal hair was a very common material to be used as bristles in broom and brush making. They aren't strange at all, they feel just like you would expect bristles too, they don't smell weird, lol, they're just bristles.
In my experience, the horsehair bristles do a better job of cleaning than plastic brushes that I have used previously.
As I mentioned at the top of the post, if you are looking to avoid animal products with a vegan bottle brush option check out the Healthy Human Water Bamboo Bottle Bottle set instead.
Who Should Buy an Eco-Friendly Bottle Brush?
In general, I think a bottle brush is a super handy kitchen tool that everyone can benefit from. However, lol, if you don't have anything round that is hard to get your hand into that you clean regularly then a bottle brush may not be for you.
More than that, anyone simply looking for a good bottle brush. After that, it's great for people looking to consume less plastic, produce less or zero waste, or people who just appreciate well made products built to last.
What can I clean with a Wooden Bottle Brush?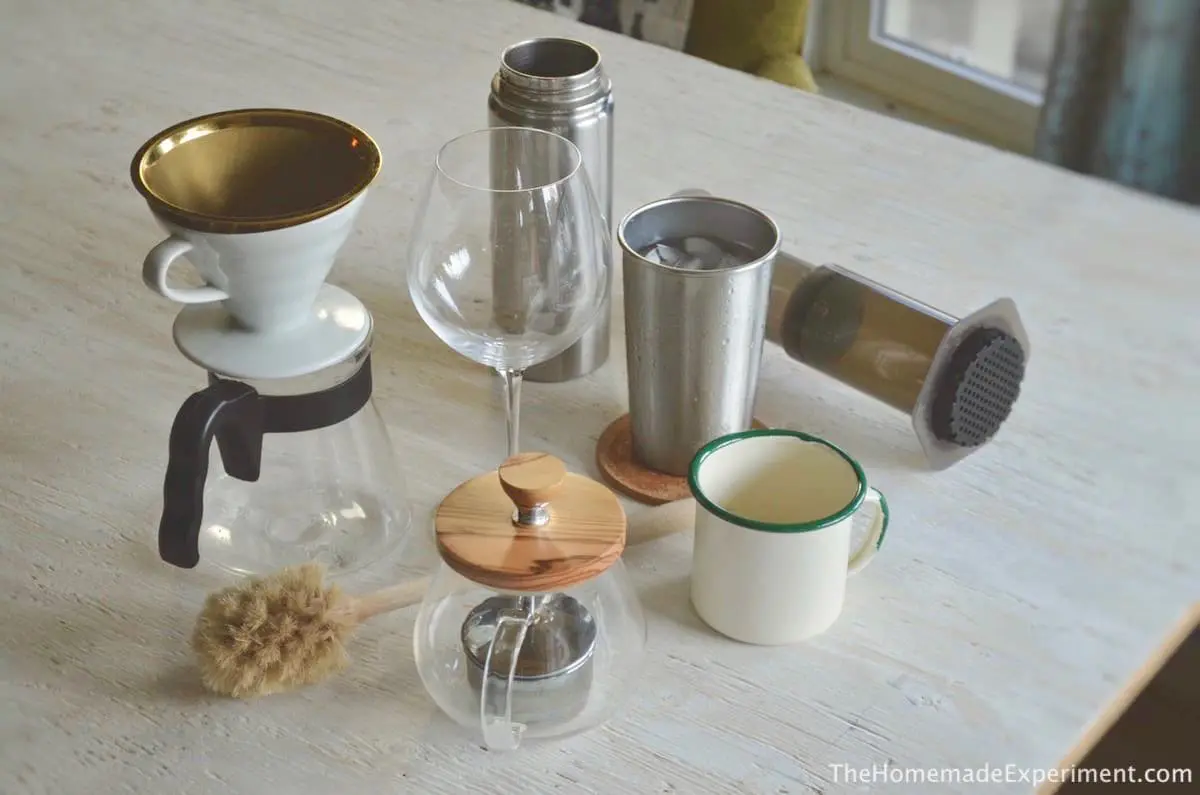 Umm, a hell of a lot more than just bottles. It might seem silly to list out all of the things you can clean with a bottle brush but I want to show you just how often you can put this thing to use. I'm not joking when I say it has made doing dishes way much easier for me.
Bottles & Water Bottles
But, of course, I need to start with water bottles. This is a great bottle brush for all sorts of water bottles. We use this brush on our Hydro Flask bottles, as well as an old Nalgene bottle that we have. The bottle brush would also work very well for most other types of water bottles such as S'Well water bottles that don't have a narrow neck (under about 1.5 inches).
Of course, this bottle brush will also work for old-school milk bottles, baby bottles, and pretty much any other type of bottle you can think of as well as long as the neck isn't too narrow.
Drinkware
Wooden bottle brushes works great on other types of drinkware as well. This brush is soft enough that I feel completely comfortable using it on delicate glassware link wineglasses. Other types of glassware like deep pint glasses or beer steins are also super easy to clean.
You can also use it to clean cups, mugs, reusable hot beverage containers, or thermoses. It is especially great for coffee or tea stained mugs that the dishwasher is not getting completely clean.
Coffee and Tea Brewing Gear
I use my bottle brush constantly to scrub out my coffee and tea gear after using it. It works great on my french press, pour-over coffee setup, AeroPress, and tea pots.
General Glassware
Jars, whether they are mason jars or if you are cleaning out jars from some store bought product so that you can reuse them. Vases! I almost forgot vases. We have a super tall vase and I was never able to clean the bottom of the thing until we got this bottle brush, lol.
Food Prep Equipment
Food processors and juicers, these typically have narrow necks designed to keep hands and fingers out which means they are perfectly suited to be cleaned by a bottle brush. I have also used my bottle brush to clean my box grater as well!
Anything Larger than About 1.5 inches
Anything with a diameter of about 1.5 inch and up you should be able to clean with no problem. My Hydro Flask has a mouth opening of 1.91″ and I have no problem using this brush on it, but, it is starting to be on the narrow end of what this brush will work well with.
And that's all just in the kitchen sink. Move on to the reuse section below for some alternative ways to use your eco-friendly bottle brush once its a little older in age.
How to Use a Bottle Brush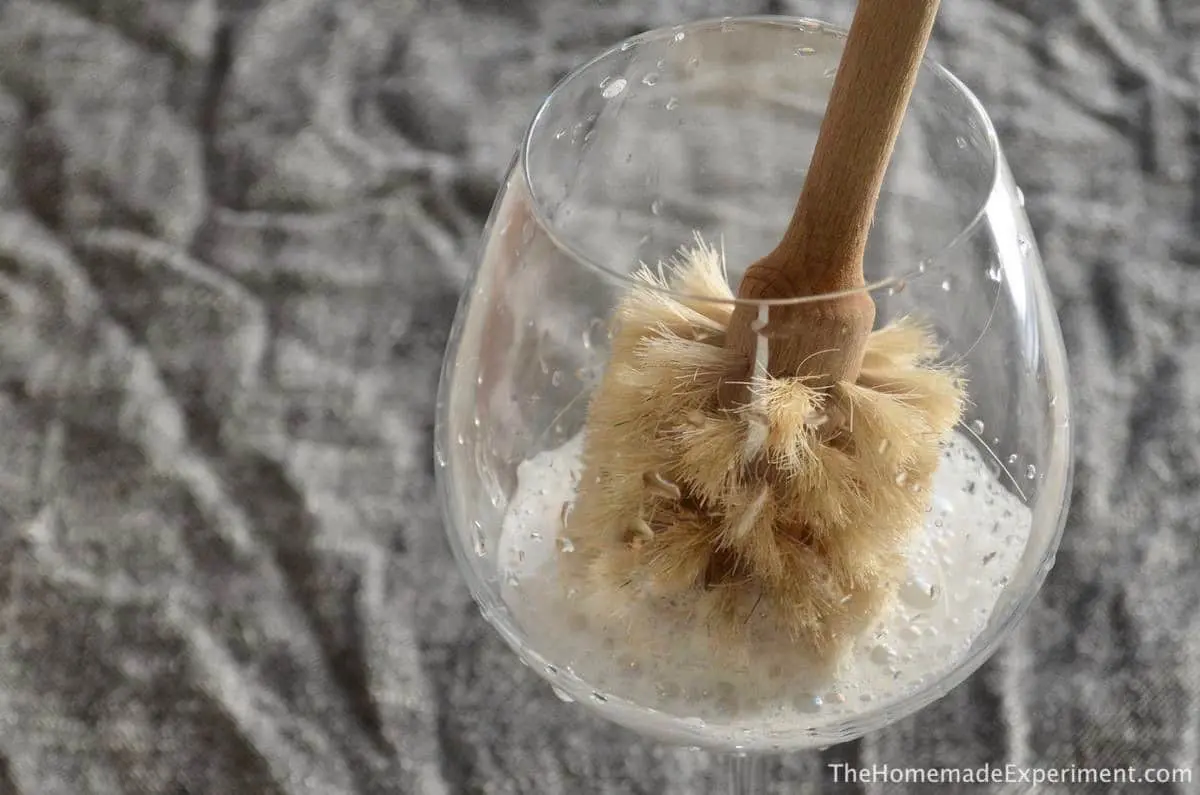 Now, I don't think this is a great mystery, but just in case, here is how I use my bottle brush! I like to just drop a small bead of dish soap into the bottom of the container and then splash in about 1/4 cup of water or less.
After that just insert your bottle brush and more or less start twisting it and using a circular motion work it around the inside of the glass until its all clean!
Bottle Brush Care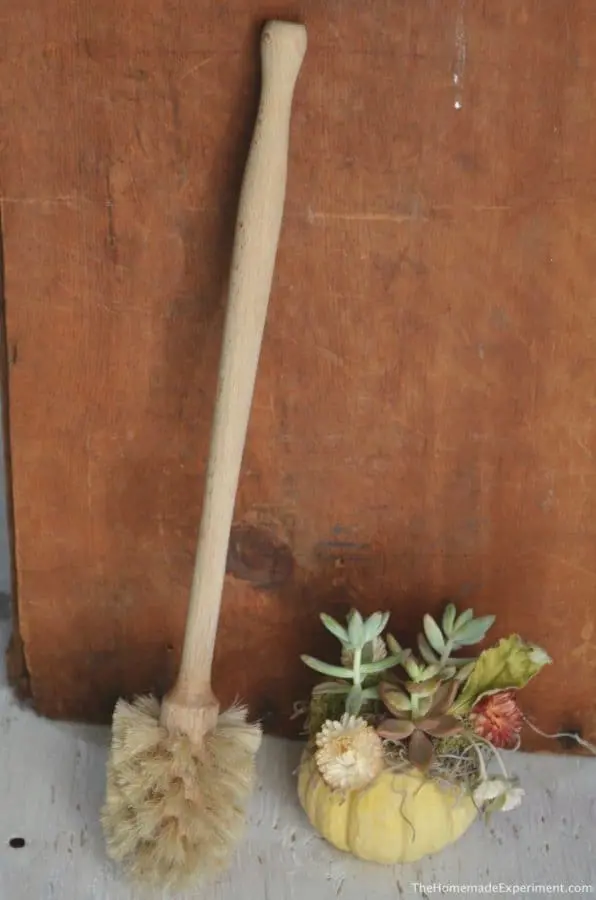 Bottle brushes are very easy to take care of, and if you treat them well, they should last for years like mine has!
To Clean a Wooden Bottle Brush
To clean your wooden bottle brush (or any type for that matter) wash it in mildly soapy lukewarm water. You can just work your fingers through the bristles gently with the soapy mixture to get the brush nice and clean. Then rinse the brush.
Once the brush is clean, blot the brush with a towel to remove any extra moisture. Then air dry the bottle brush with the bristles facing down. This will help to prevent the wooden handle from becoming damaged.
Occasional Maintenance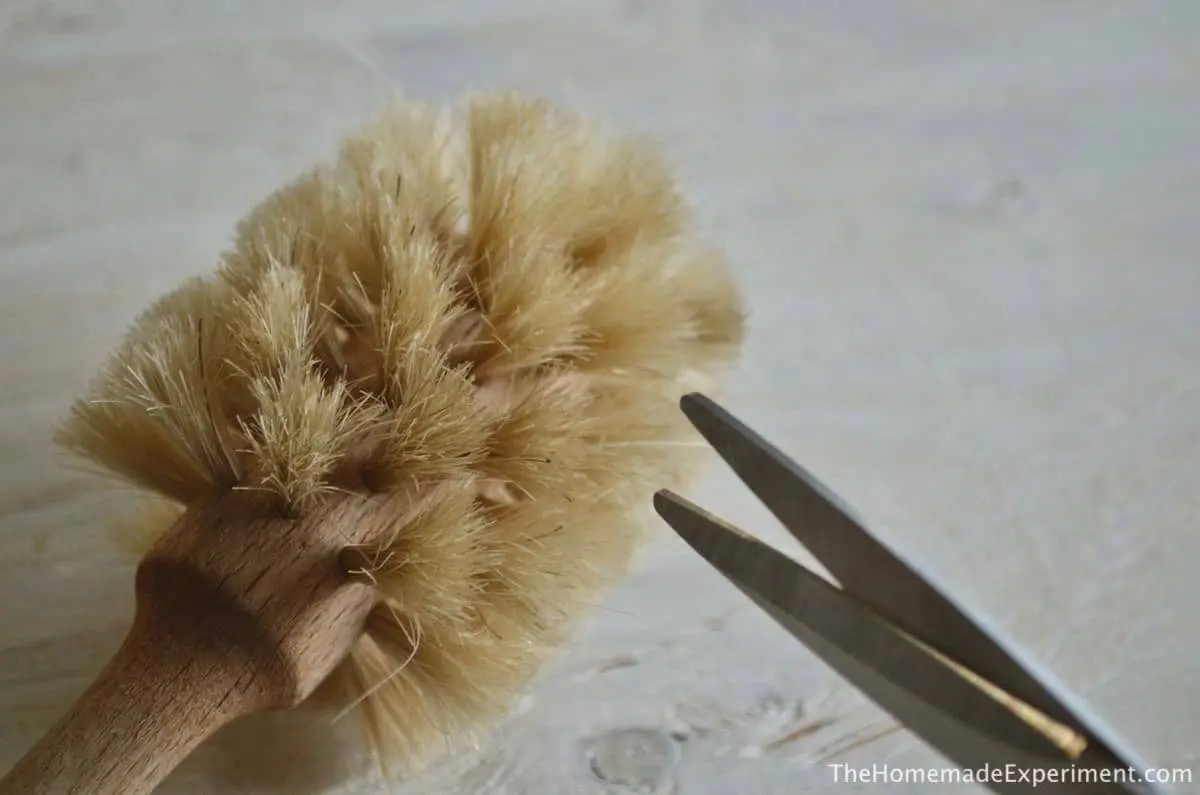 Every once in a while the brush will loose a few bristles here and there. It should only be a concern if an entire bunch of the bristles falls out. The occasional bristle coming loose is not a big deal.
If bristles start to work their way out over time it is better to just trim them with scissors instead of pulling them out. Pulling bristles out can lead to the other bristles in the bunch becoming looser and falling out themselves.
How long will a wooden bottle brush last?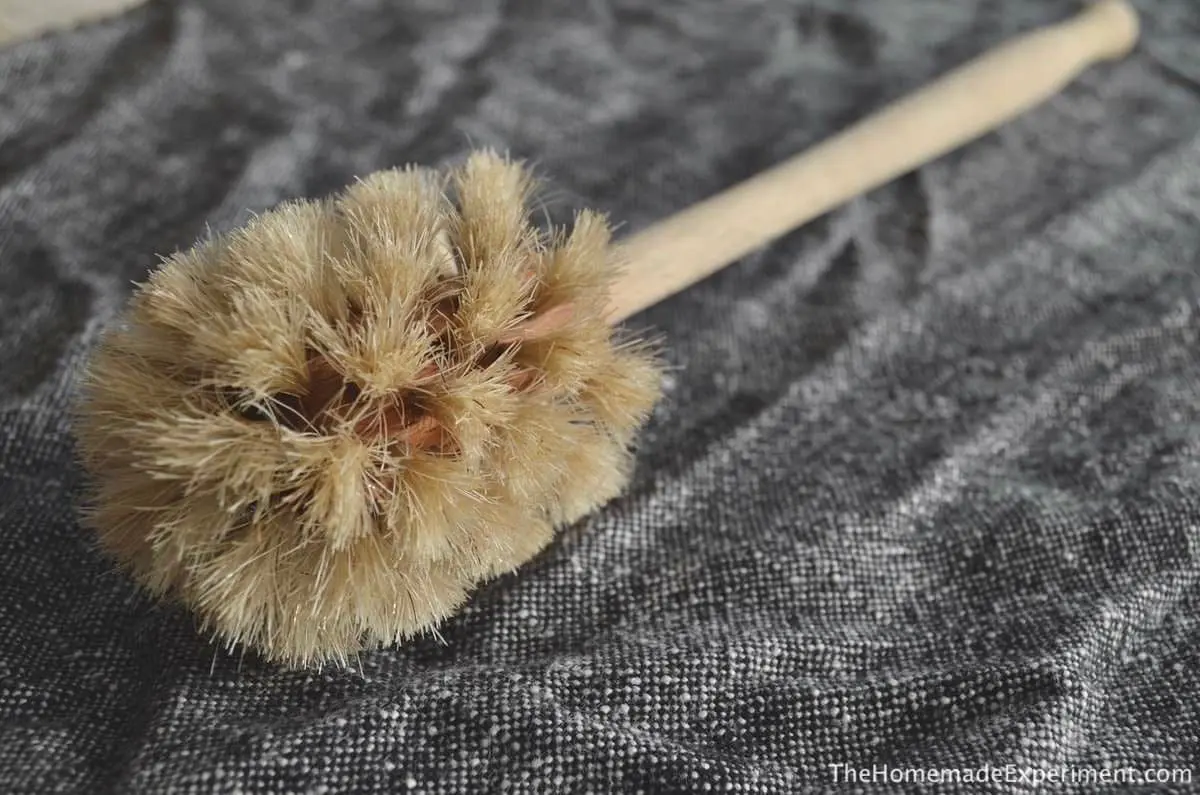 I bought my bottle brush in October 2016 and the thing looks almost brand new after 2 years of moderate use. The 2 year old brush is the one that I used for the pictures in this post!
Update: Still going strong in January 2020!
Other reviewers on Amazon report that their brushes have lasted for 3 years or more. Needless to say, this bottle brush should last you a good long time if you take good care of it. Of course, how often you use your brush will have an impact on how long it will last as well.
Reuse and Repurpose

Depending on how thrashed it is when you take it out of dish duty you can also put it to good use elsewhere.
Toilet Scrubber
A common reuse for these brushes it to downgrade them to a toilet brush. Make sure to mark this brush in some way to make sure it never gets used on dishes or food prep gear ever again. I am planning to dip the end of my handle in black paint when I finally downgrade my current bottle brush to toilet duty.

Car tire scrubber
This brush is perfect for getting into all of the nooks and crannies on a car wheel. I honestly think this might work better than the little scrubber brushes I have always bought.
Disposing of the brush…
Hopefully, after many years, it will be time to retire your bottle brush for good after having done dish duty and finding a second wind being put to some other dirty use. Luckily, disposing of this wooden bottle brush is super simple!
Since this is an eco-friendly bottle brush it is totally compostable. The wooden handle is untreated so it and the horsehair bristles are both biodegradable given enough time. You can either compost the bottle brush yourself, or there should be no issue with simply putting it in your yard debris bin if you do not compost.
In the End
Ultimately, this thing is awesome. I feel like I get way to excited about silly things like this, but I seriously love my bottle brush. I love how well made it is, I love how simple it is as a product, I love that it works better than plastic brushes I have used previously, and the fact that it is compostable makes it perfect for me.
Let me know if you have any questions in the comments or let me know about your favorite eco-friendly bottle cleaning methods!
Thanks for reading,
Lance
Last update on 2023-12-02 / Affiliate links / Images from Amazon Product Advertising API