I love making this diy patchouli reed diffuser & diffuser oil refill. I used to burn patchouli incense all the time, but sadly my asthma has always made that a somewhat painful thing to do.
I don't know why, but for the longest time I didn't even consider whether or not you can even use patchouli essential oil in a diffuser. Then one day I noticed I had a little bottle already sitting in one of my essential oil sets and decided to give it a try.
Now i get all the same great patchouli smell with none of the smoke!
Ingredients
Ok! Now that you've got your ingredients ready let's make this patchouli diffuser oil refill recipe.
1/4 cup fractionated coconut oil
For the carrier oil in my patchouli reed diffuser I am using 1/4 cup fractionated coconut oil.
There are several diffuser carrier oil options, but, fractionated coconut oil is my go to choice for a quick reed diffuser.
25 drops patchouli essential oil
Add to your container about 25 drops of patchouli essential oils. Give your diffuser a like swirl to mix the essential oil evenly into the carrier oil.
If after a day or so you'd like a stronger smell you can always add more!
As a general rule, it's best to look for 100% pure essential oils that get good reviews as these will have no fillers, be of higher quality, and typically smell much better than cheaper options!
If you only came here looking for a patchouli reed diffuser refill recipe then you can stop here. But, if you want to finish your diffuser off with some reeds keep reading!
5-7 reeds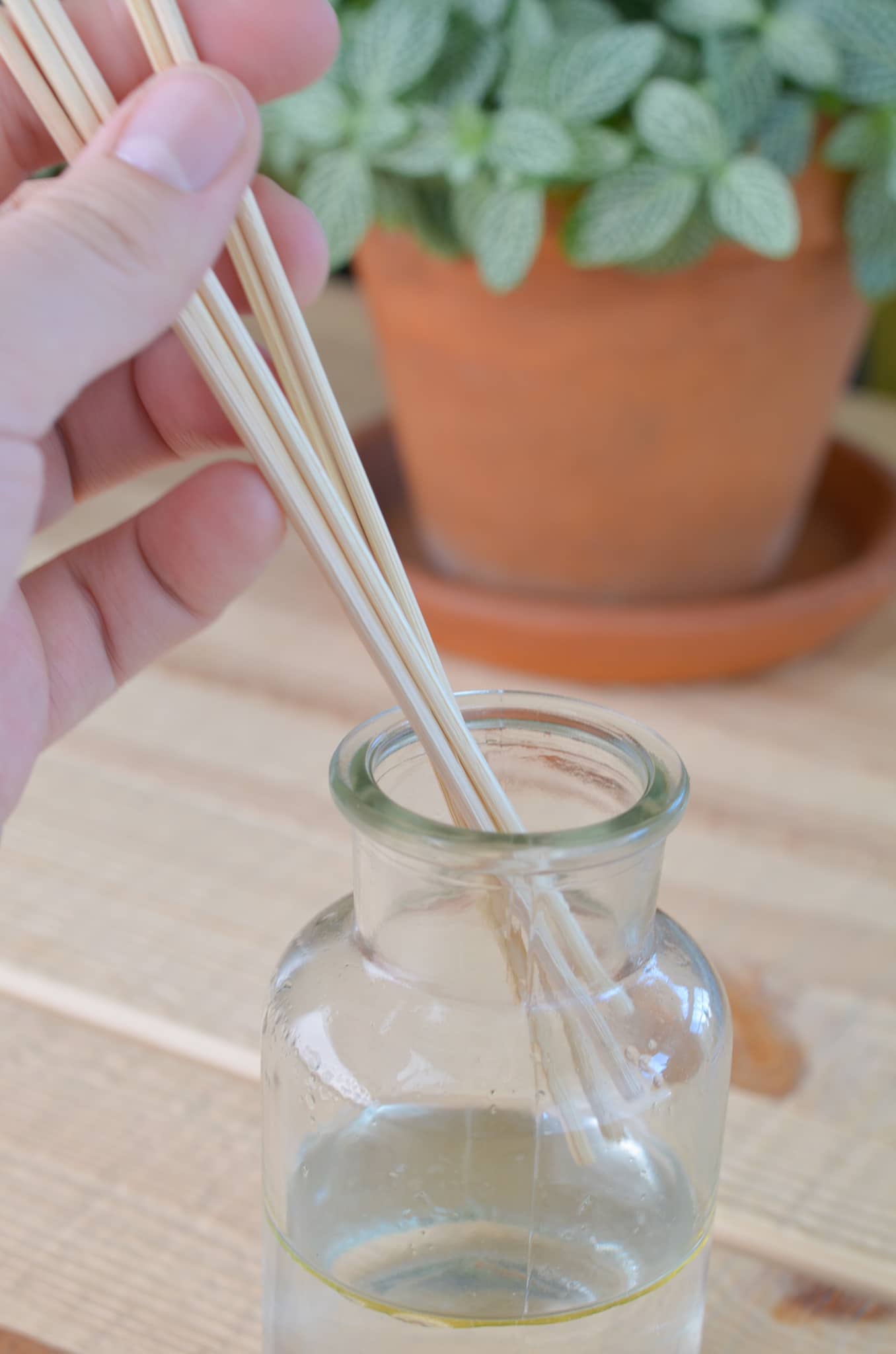 To finish, add in 5-7 rattan reeds.
The number of reeds that you use is the main way to customize the scent level that you will get from your diffusers.
If you start with 5 reeds and leave it over night you can then add extra reeds the next day if it's not putting out as much patchouli scent as you'd like.
There are also some other great rattan reeds options if you don't want to use ones as plain as the ones that I am using in this post.
To keep the diffuser smelling great flip the reeds once a week.
Homemade patchouli reed diffuser done!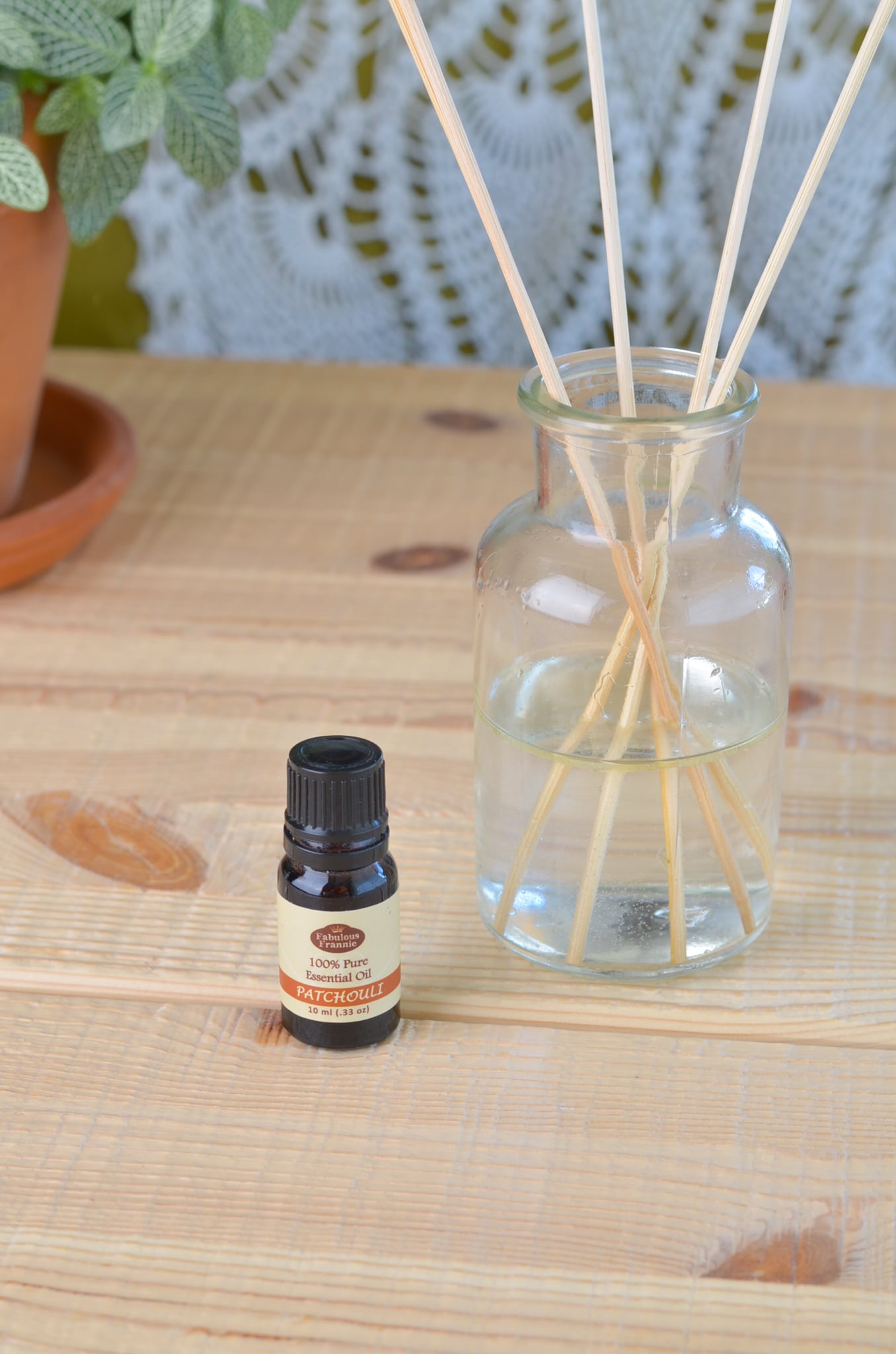 Find a good shelf out of the reach of pets and children for your diffuser to settle down and enjoy the lovely patchouli scents that will soon be wafting your way!
For a more citrusy herbal scent learn how to make a lemongrass reed diffuser.
Pre-made Patchouli Diffusers
And, if you just are in the mood for making something there's always some good pre-made options you can find online. Keep in mind, though, that the pre-made options, in general, will use fragrance oil instead of essential oils.
I personally really like P.F. Candle Co. reed diffusers, check their stuff out for sure if you are looking for a solid reed diffuser and don't want to make your own patchouli diffuser.
DIY Patchouli Reed Diffuser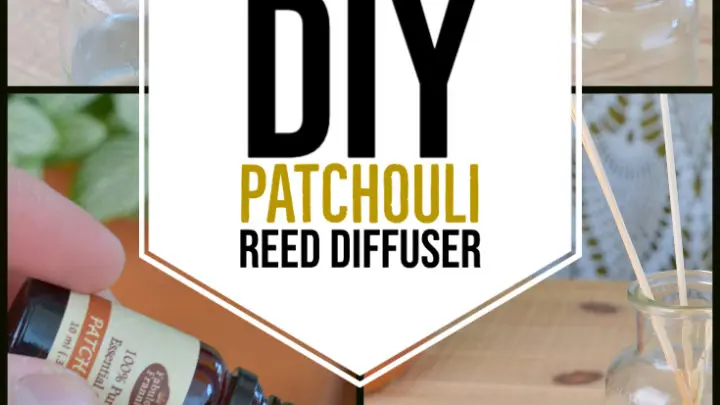 Make your own diy patchouli essential oil reed diffuser in no time to get that awesome patchouli smell with none of the smoke of incense!
Materials
1 narrow neck diffuser container
1/4 cup carrier oil
25 drops patchouli essential oil
5-7 rattan reeds
Instructions
Add 1/4 cup carrier oil to narrow necked diffuser container
Add 25 drops patchouli essential oil and swirl to mix
Put 5-7 rattan reeds in the diffuser container
Place the diffuser in a safe place out of reach of pets and children and enjoy that great patchouli smell!
Last update on 2023-12-02 / Affiliate links / Images from Amazon Product Advertising API