Lemongrass is not a scent that everyone loves, but if you are one of those in the love camp the here is how to make your own diy lemongrass diffuser or just diffuser oil refill if thats all you need.
Lemongrass essential oil diffuser benefits
Research on the benefits of lemongrass when used in diffusers for aromatherapy is limited, however, some research shows that it may help to alleviate stress and anxiety.
Regardless of it's benefits, sometimes it's just nice to get a big whiff of the strange citrusy herbal scent of lemongrass. I personally think lemongrass is a very invigorating fresh smell that is nice to have around the house.
Ingredients
When you've got all of your ingredients ready let's get to making our diy lemongrass reed diffuser oil refill!
Add 1/4 cup fractionated coconut oil
Add 1/4 cup of carrier oil to whatever you are using for your diffuser container. For more options read my post on other reed diffuser bottle options.
In a read diffuser the carrier oil, sometimes called a base oil, is what will provide the majority of the liquid in the diffuser and help to "water" down the essential oils so that they are not over powering.
In this recipe I am using fractionated coconut oil since it is clear and relatively thin making it great for diffusing! I have some other carrier oil options you can check out as well. Sweet almond oil is an excellent alternative option.
Add 25 drops lemongrass essential oil
Add 25-30 drops of lemongrass essential oils. If this is your fist time using lemongrass for aromatherapy I would suggest starting off with only 25 drops to make sure you don't make it too overpowering to start with.
Swirl your bottle gently to mix once you've add all of you essential oils.
Make sure to source high quality 100% pure essential oils as lower quality oils can have a much weaker smell or even not contain only lemongrass essential oils.
If you just want to make some lemongrass refill diffuser oil then that's it! But, if you want to make a full reed diffuser keep reading!
Insert 5-7 rattan reeds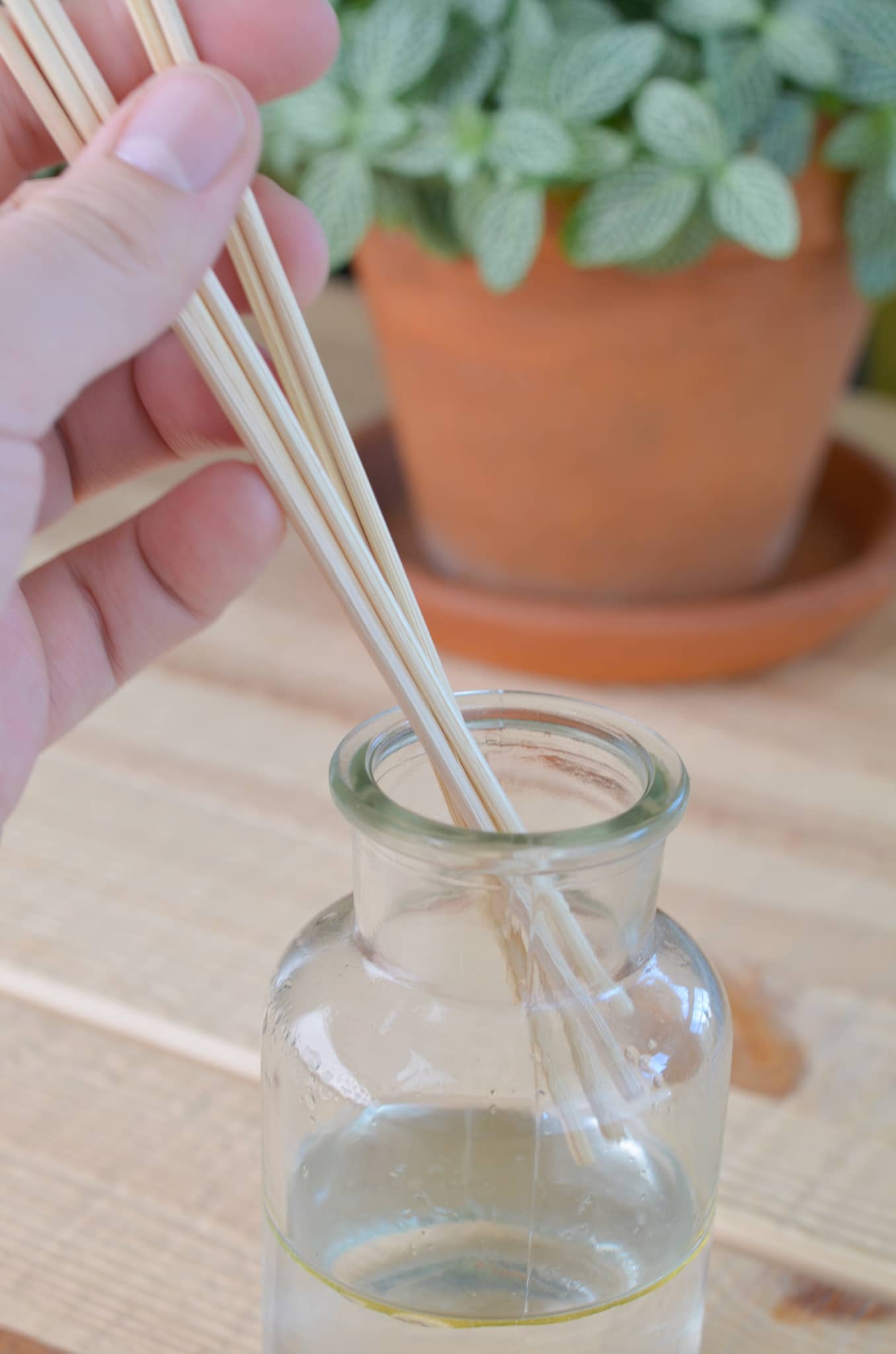 Last, throw 5-7 reeds into your diffuser bottle.
This is where you can customize how much lemongrass scent you'll have coming off your diffuser. If you add more reeds you will have a strong scent. So, I always recommend starting off with only 5 diffuser reeds and then adding more as needed!
I am just using plain rattan reed for my diffuser. If you want some fun rattan reed options there are all sorts to choose from.
Flip your reed about once a week to refresh the scent and keep that lemongrass smell going!
Your lemongrass diffuser is complete!
Now pick a nice spot for your lemongrass diffuser to live where it can't easily be tipped over and out of reach of pets and children. Then enjoy the lovely fresh scents of lemongrass wafting your way!
If you are looking for something a bit more festive see how to make a diy peppermint reed diffuser for that holiday time smell!
Pre-made Lemongrass Reed Diffusers
It's also ok to be a little lazy every once in awhile! So if you need to kick back relax and enjoy a lemongrass diffuser without having to make one yourself there are some good pre-made options out there as well! Keep in mind though that pre-made options are often, not always, made with fragrance oils instead of 100% pure essential oils.
DIY Lemongrass Reed Diffuser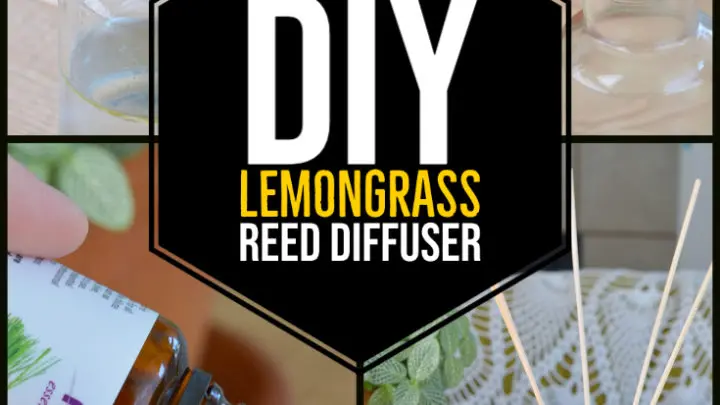 Make your own homemade lemongrass essential oil reed diffuser to get those sweet herb smells wafting around your home.
Materials
1 narrow neck diffuser container
1/4 cup carrier oil
25 drops lemongrass essential oil
5-7 rattan reeds
Instructions
Add 1/4 cup carrier oil to narrow necked diffuser container
Add 25 drops lemongrass essential oil and swirl to mix
Put 5-7 rattan reeds in the diffuser container
Place the diffuser in a safe place out of reach of pets and children and enjoy that great patchouli smell!
Last update on 2023-12-02 / Affiliate links / Images from Amazon Product Advertising API