Whether it's a nice fresh-cut pine tree, gingerbread cookies hot out of the oven, or tasty peppermint candy canes; flavors and scents define the holiday season.
Using essential oils is a fast, easy, and natural way to punch up the scents in your home without bringing a single tree into your home, baking a single tray of cookies, or even eating a candy cane. I love using winter essential oils to help get into the holiday spirit by filling my home with the scents of the season.
In this post I have listed some of the best essential oils for Christmas and the holiday season as well as a couple of buying options to get your home smelling great this holiday season. Read on to find the right essential oils for your diffusers, soap making, or other holiday projects!
Where to Buy Winter Essential Oils
In general, my go to place to get new essential oils is Amazon. They have a massive selection with some really great high quality 100% pure essential oil brands.
You can also typically find essential oils at your local health food store.
I will go through a few great places to start if you are shopping for some essential oils to liven up your holiday season.
A Christmas-time Word of Caution
Fragrance oils are often sorted with and look very similar to essential oil bottles on sites like Amazon. They will smell great when you get them, but they are definitely not essential oils. While essentials oils are naturally derived, fragrance oils are synthetically created.
I have accidentally ordered fragrance oils myself and they were a real bummer to get instead of essential oils. Read carefully before buying online or you might end up with fragrance oils on accident.
Winter Essential Oils by the Bottle
Buying essential oils by the bottle can be more cost effective as you are buying fewer oils at a time. This is general the better route to go if you are a heavy essential oils user already and have a decent collection already built up.
There are some good options for single source essential oils and essential oil blends for winter.
Single Ingredient Essential Oils for Winter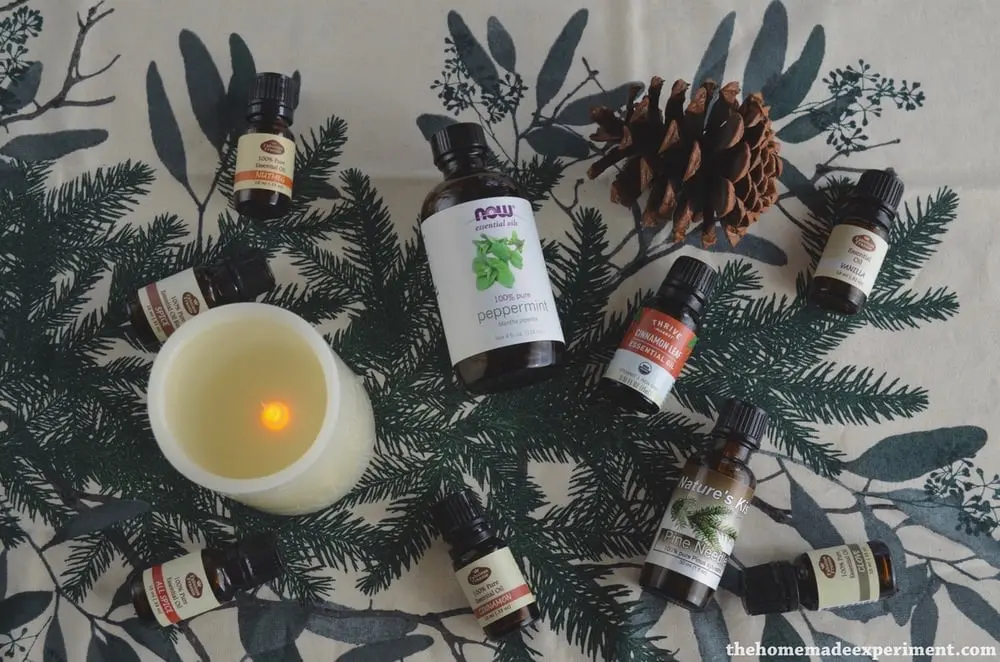 First off, you can snag essential oils one at a time. This in general requires you to be a little more familiar with essential oils, or, at the very least, have a very good idea of how you intend to use your essential oils.
It is best to do a bit of research online on recipe blends before you start buying essential oils. For example, you will want to know if you are more interested in buying oils that are more spice oriented or foresty/woody.
Here is a quick list of popular winter time essential oils (listed in alphabetical order). These are great either on their own or used in a holiday essential oil blends. (Links are for Amazon products)
Pre-blended Winter Essential Oils
If you do some digging there are some really good options for pre-blended holiday essential oils blends.
With these you won't get to make up your own custom mixes, but they are a little bit easier and more convenient if you are a casual essential oil user or if one of these blends just happens to be exactly what you were looking for!
Winter Essential Oil Sets
Essential oils sets are a great way to get a variety of oils from plants you may or may not be familiar with. A set is a great way to start out with essential oils and become more familiar with the wide world of essential oils!
Here are a few set options for newbies and avid essential oils users alike.
General Essential Oil Starter Set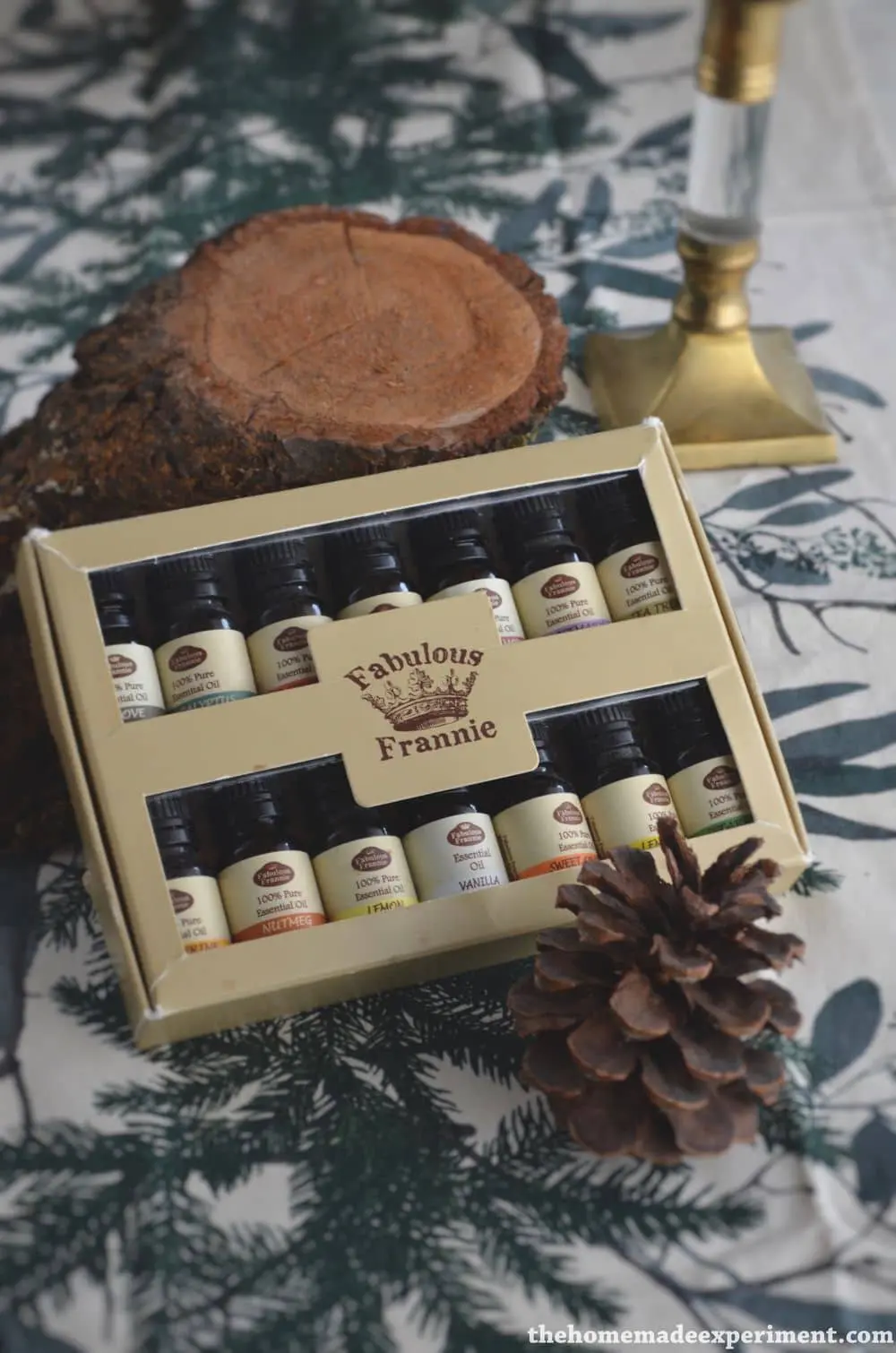 If you are an essential oils newbie an essential oils starter set is a great place to get started.
These sets are geared towards those who are new to essential oils so they provide a great selection of essential oils and typically include several wintery essential oils perfect for the holidays as well as a good assortment for year-round use.
This Essential Oils Starter Set over on Amazon is a solid first set. But, click around and read through the included oils and choose the set that fits you and your needs best.
Make sure to read the fine print, if necessary, and make sure you are always buying high quality 100% pure essential oils.
If you are looking for a more focused holiday themed set read on!
Winter Essential Oil Sets
I love these winter themed essential oils sets. They are great for rounding out your essential oils collection with a nice mix of essential oils that pair well together and are perfect for the holidays.
Seasonal essential oil sets are great because you aren't investing as much money as you would if you were buying a larger starter set but it gives you more room to play and explore blending than if you only buy one or two individual bottles.
Fabulous Frannie Fall Essential Oils Set
With all of the spices included in this set it is the right set to get if you want your home to smell like you've been pounding glasses of eggnog and baking a million gingerbread cookies.
This essential oils set from Fabulous Frannie has Allspice, Cinnamon, Clove, Nutmeg, Vanilla, and their own Spice Blend which is actually very nice!
I personally really like this winter essential oils set. I already had a good mix of tree essential oils so this set helped fill in the missing holiday spices section of my collection.
Earth & Wood Essential Oils Set
This earthy essential oils set is a great set to go with if you are looking to avoid gingerbread and eggnog cravings the previous set is like to give you in favor or a more woodsy scented home.
It features Frankincense, Cypress, Fir Needle, Juniper Berry, Patchouli, and Vetiver oils.
Tree & Earth Essential Oils Set
This is another earthy essential oils set similar to the last one, but, leans even more towards tree essential oils. This set is just right to get that wintery "I just cut down an entire forest" scent into your home.
This set contains Birch, Eucalyptus, Fir Needle, Pine, Spruce, and an Earth & Wood blend essential oils.
Winter MajesticPure Essential Oils Set
This set set includes a little bit of everything, so if you aren't quite sure if you are more interested in earthy or spice scents this is a great set to consider.
This essential oils set includes Cinnamon Leaf, Clove Leaf, Eucalyptus, Frankincense, Lavender, Lemon, Peppermint, and Rosemary essential oils.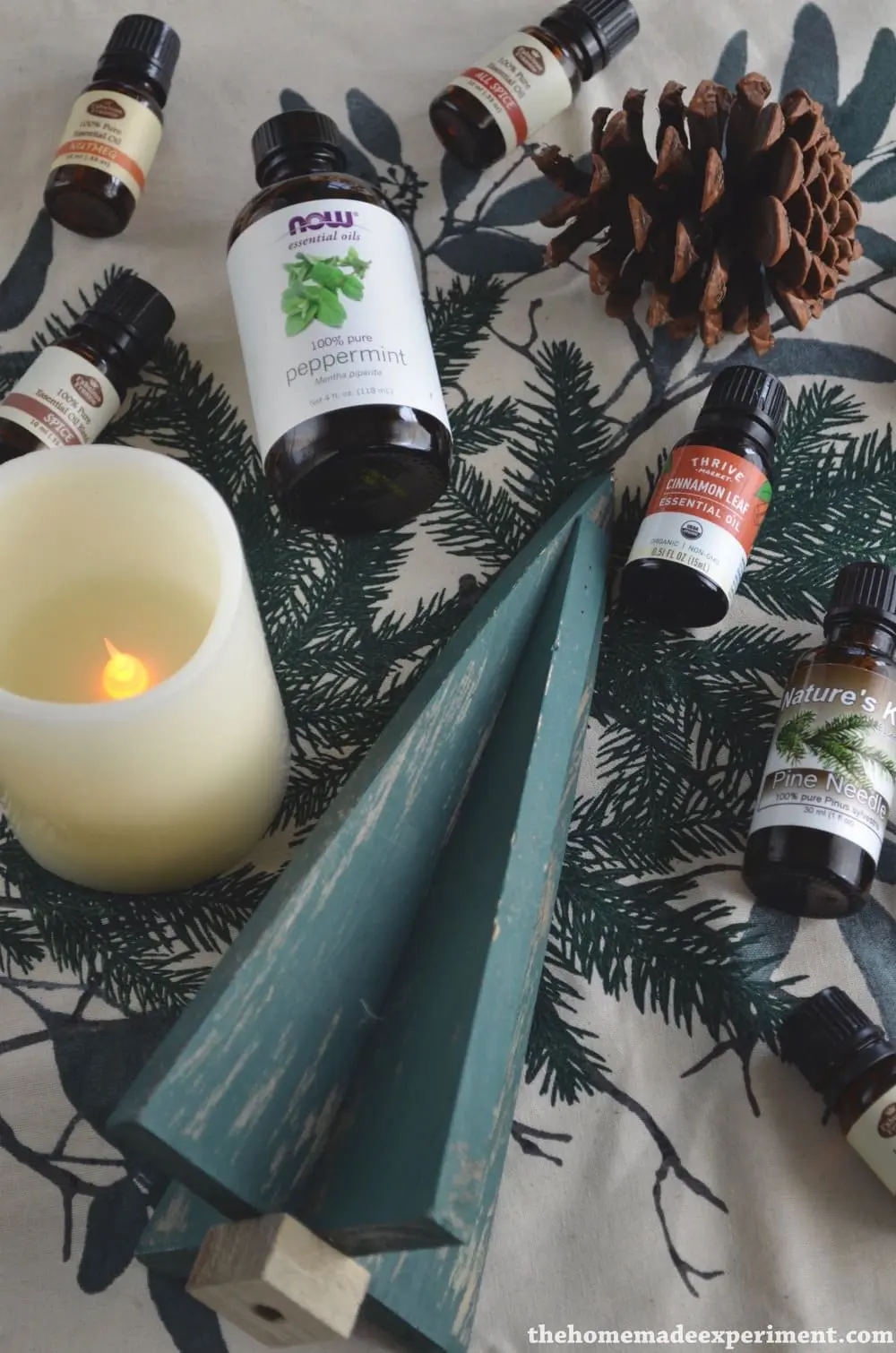 Ways to Use Your Winter Essential Oils
Ok, now that you are all loaded up with holiday essential oils its time to put them to use!
If you are looking to fill you home with the scents of the season check out my posts on Rice Essential Oil Diffusers and Homemade Reed Diffusers.
Other great ways to put these essential oils to use are in soap making, linen sprays, or whatever else you can think of! Let me know how you put your holiday essential oils to use in the comments and thanks for reading!
Lance
Last update on 2023-12-02 / Affiliate links / Images from Amazon Product Advertising API