Homemade Air Freshener with Essential Oil & Herbs
Sometimes our houses get a little smelly. Whether it's a stinky trash can under the sink or your bathroom (for obvious reasons) making your own homemade air freshener is the perfect way to fight the stank.
When I was a kid my family always had a can of your average store bought aerosol bathroom air freshener sitting on the toilet tank ready to "freshen" up the bathroom at a moments notice.
Those sprays never seemed to do anything to get rid of the odor. They just added a sickly sweet smell into the mix, and ended up making the room smell worse.
Try making this homemade air freshener as an alternative to aerosols from the store.
This air freshener isn't just for bathrooms, it's great under the sink, in the fridge, in a closet, cupboard, or anywhere else that stinks. Not only does it put off a pleasant aroma, but it absorbs all the bad smells too. Give it a shot and see for yourself.
Time: 5 min.
For an alternative quick and easy diy air freshener see my Rice & Essential Oils Diffuser post.
– Ingredients –
You don't need much, and you probably have most of what you need already laying around the house.
1 cup baking soda
15-20 drops essential oils
dried herbs
jar or shaker container (diy mason jar shaker)
– Step One –
1 cup Baking Soda
Baking soda is the primary ingredient in this homemade air freshener.
Add in 1 cup of baking soda into whatever you're mixing or storing you air freshener in.
Baking soda is great at absorbing odors, it is what will suck all of the bad smells out of the air leaving your room smelling fresh and clean.
– Step Two –
15 drops Essential Oil
& 1 tsp Herbs
The best part of this is that you're not restricted to what they have on the shelf at the grocery store, you can make your air freshener smell like anything that you want from peppermint, to sandalwood, or pine like I'm doing. You can use anything you want to scent your air freshener, from any type of dried herb to any or multiple essential oils.
I'm adding in 15 drops of pine essential oil and 1 teaspoon of rosemary for this batch. Feel free to add more or less of either of these ingredients depending on how strong they smell, or how strong you like it.
Herbs are optional, I like them not only because they add a little scent-wise, but also because they give the powder a little more visual interest. It's not a big deal, but white powder with some cheery green flecks is prettier to look at in my opinion than a jar of nondescript white powder.
That's just me though, make it your own!
– Step Three –
Mix it up
If you've poured your ingredients into a jar like me shake it vigorously to thoroughly to break up the essential oil drops and mix them evenly throughout the entire mixture. If you've been making this in a mixing bowl stir it all up making sure to mix everything completely.
– Storing Your Air Freshener –
Pick your container
You can put this into whatever you want, it doesn't really matter so long as the air that you're trying to freshen up is able to come into contact with the air freshener that you've made. You can use a mason jar shaker like I used, or you can just use a little dish or something similar, whatever works for you.
That's it, now take your homemade air freshener and stick it somewhere stinky.
Let me know how this air freshener works out for you in the comments.
-Lance
Homemade Air Freshener with Baking Soda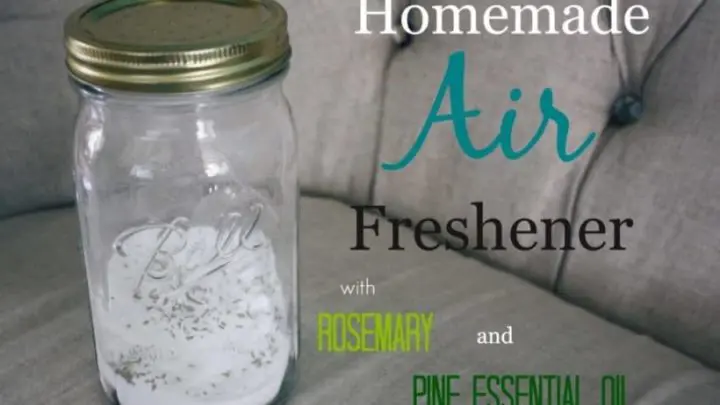 How to make your own homemade air freshener with only a few basic ingredients.
Materials
1 cup Baking Soda
15-20 drops Essential Oils
1 tsp. Dried Herbs (optional)
Instructions
Add baking soda to container.
Drop in essential oils.
Pour in dried herbs. (optional)
Mix/shake well.
Now take your homemade air freshener and stick it somewhere stinky!