Two Minute Homemade Air Freshener
This homemade rice and essential oils air freshener is a really quick and affordable way to get some scent into the air making your home smell nice and fancy with virtually no work!
Not to mention, if you don't have a diffuser on hand this is a great way to diffuse essential oils without a diffuser, either reed or electric.
That's something I can totally get on board with. Best of all it only takes a couple minutes to make, so if you've got company dropping in unexpectedly or just want to brighten the mood with a great scent there's always time for this diy diffuser recipe!
Time: 2 minutes
For more diy diffuser recipes see my post: Eight Homemade Essential Oil Diffusers.
Rice Diffuser Ingredients
Here's what you need to make your rice homemade air freshener (links below are for Amazon products):
That's it, let's make it:
Add 1/2 cup Rice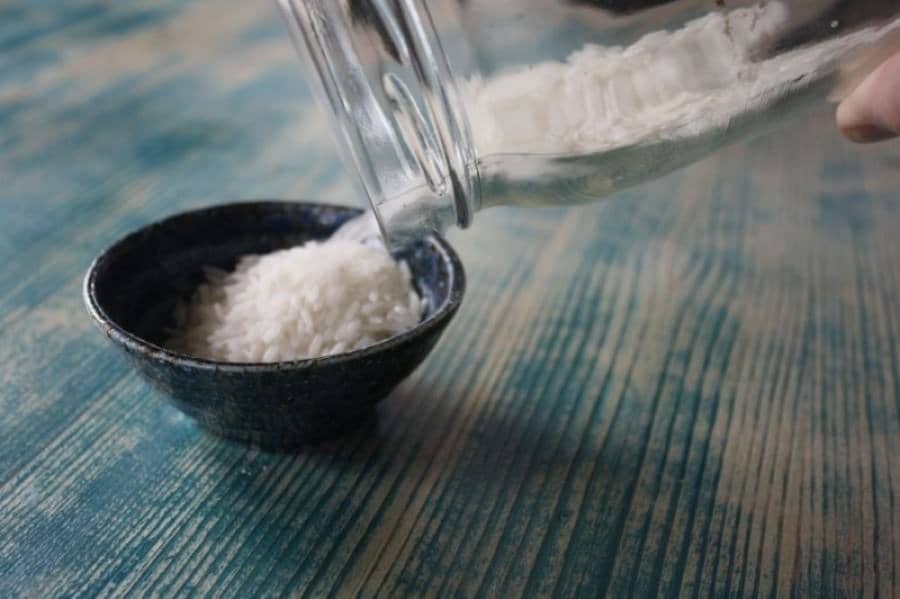 Take out your rice and either pour it into the container you will be using, or (if it's too small) into a larger container you can mix your ingredient in.
For my diffuser I am using about 1/2 cup of rice. I find that this is just the right amount for small container perfect for one room.
I like to use jasmine rice because it has a somewhat sweet smell already of its own which goes well with essential oils.
The rice is important in this homemade air freshener recipe because it's what holds in the essential oils and slowly disperses them into the air.
This recipe is very similar to my homemade air freshener with baking soda post, only instead of rice that recipe uses baking soda.
Add 15 – 20 drops Essential Oil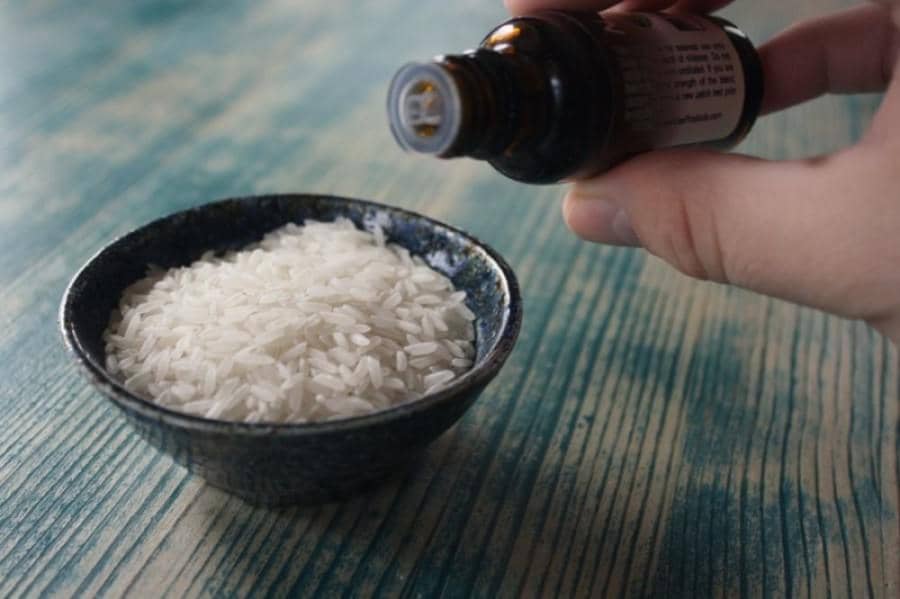 Next, add in 15 – 20 drops of essential oil. For my homemade rice air freshener I used both pine and peppermint essential oils.
I put in 18 drops of the pine essential oil, and since the peppermint is so much stronger than pine I'm only using two drops of the peppermint essential oil.
Other scents that work well for this air freshener are lavender, lemon, or whatever you like best, it really doesn't matter so long as it's something you like.
Depending on what oils you're using and your personal preferences you may need to add in a little more or less, just make it your own!
Amazon is a good place to shop for essential oils with a ton of different options to get you started. I always recommend a good essential oils starter set. Be sure to look for 100% pure essential oils so you know you are getting the highest quality product possible.
Mix Diffuser Ingredients Together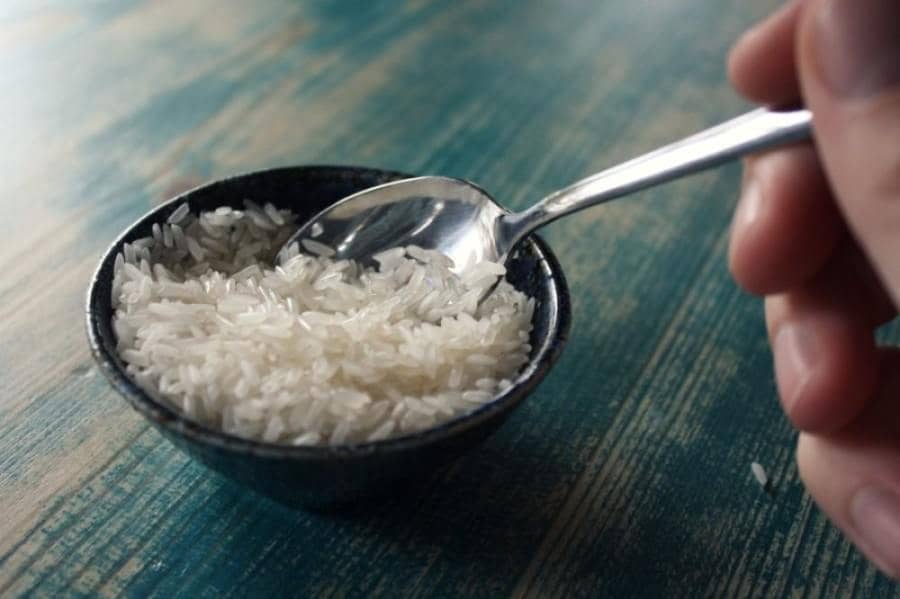 Then just mix it all up. Stir or shake the mixture.
Try to disperse the essential oils as evenly as you can throughout the rice make sure that the essential oil is evenly distributed throughout the rice.
The more evenly the essential oil is spread, the more surface area there will be for the essential oil to diffuse into the air.
Use it!
Well, that's it, just put your new homemade air freshener into some sort of tray or dish. Then place it somewhere you want to smell awesome, and enjoy.
Black Rice Version
Here is what using black rice looks like as well! I really like how black rice looks with in this simple diffuser. I think it looks a little fancier!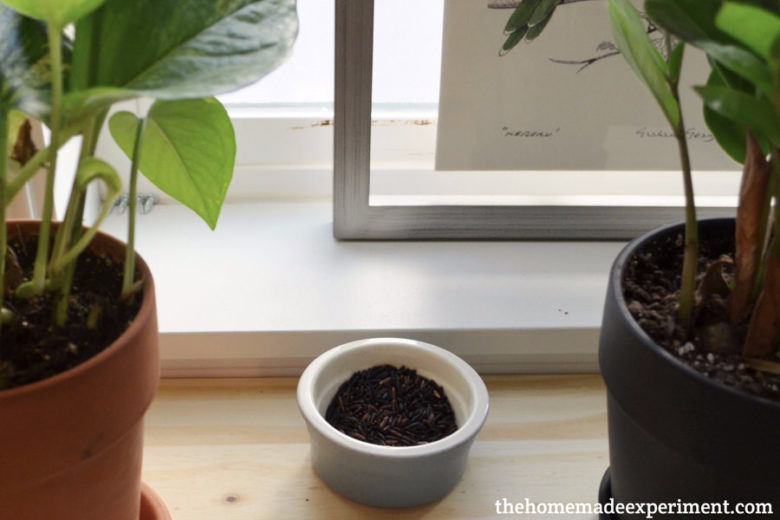 If you have pets or children that might try to eat the rice, make sure you put it out of their reach to be safe.
When the air freshener begins to loose its scent just add in a few more drops of essential oil, give it a quick shake, and you are go to go again.
How Well Does This Diffuser Work?
I really like this homemade air freshener. I have tried another the homemade air freshener with baking soda previously which I did like.
However, I think that this one is more my style. I love that this one uses rice, and in my opinion it better diffuses the scent into the air than the baking soda one. It doesn't get the scent into the air nearly as well as with my homemade essential oil diffuser in a cup.
I also really like how this air freshener looks compared to the baking soda one, the rice has a nice visual texture and better release the scent into the air.
This will definitely be my homemade air freshener of choice when I want something to just put out a nice mild scent into the air.
Let me know how this works out for you in the comments, and share the post if you found it helpful!
– Lance
Easy Rice & Essential Oil Air Freshener Diffuser Recipe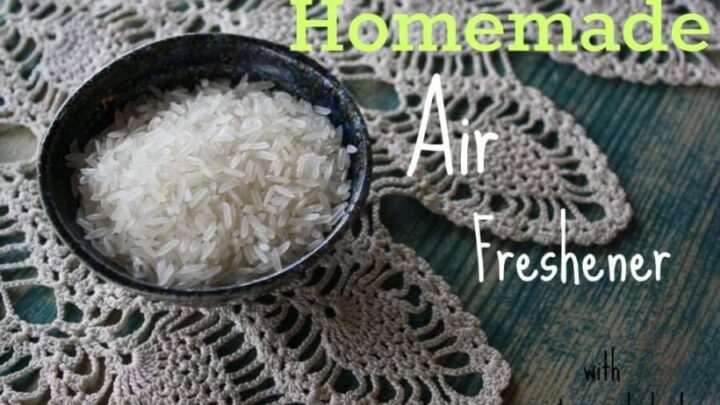 This rice essential oil diffuser recipe is a super easy and affordable air freshener that you can make without a traditional reed diffuser.
Materials
1/2 cup Uncooked Rice
15-20 drops Essential Oils
Tools
Small Dish/Container
Mixing Bowl (optional)
Spoon
Instructions
Pour rice into dish or mixing bowl.
Add 15-20 drops favorite essential oil.
Mix to thoroughly coat rice with oils.
Put rice mixture into a cute dish if you were a responsible adult and used a mixing bowl in step 1 unlike me!
Place in room and enjoy!
Last update on 2022-11-06 / Affiliate links / Images from Amazon Product Advertising API