Make Your Own Homemade Carpet Freshener Powder
This homemade carpet freshener is another great example for just how handy baking soda is around the house, and how it's certainly not just for baking.
Carpet gets dirty, that's unavoidable. Every day as we come home we bring a little bit of the outside world into our homes on the soles of our shoes.
Vacuuming will suck up all the dirt and grime that finds it's way into carpet, but over time carpet can get smelly. Having feet, house pets, and who knows what else on it will eventually leave your carpeting smelling a little less than fresh.
Never fear! A good carpet freshening powder can work wonders deodorizing your carpet and leaving it smelling better than the day you bought it. Here's how to make your own diy carpet freshener powder.
Also read, homemade carpet freshener made with borax powder for a slightly more complicated carpet freshening deodorizer.
Time: 5 min.
Ingredients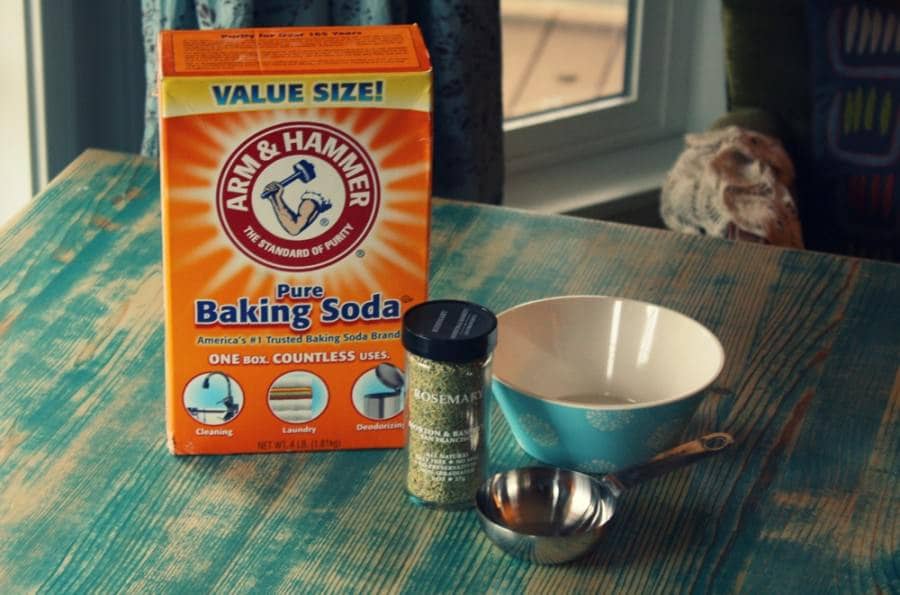 Baking soda is the only mandatory ingredient for this recipe, but if you want to add a little scent to your carpet while you deodorize you will need both ingredients.
(Links are to Amazon products, any purchases will help support me and The Homemade Experiment)
Instructions
Add the baking soda to a mixing bowl.
Then, add in powdered rosemary or other aromatic herbs.
Mix the ingredients together.
Sprinkle the carpet freshening powder evenly across your floor.
Vacuum your newly freshened carpet!
Step-by-Step Guide
Step One

1/3 – 1/2 cup baking soda
Measure out 1/3 to 1/2 a cup of baking soda. This should be just about the right amount for freshening carpet in a small to medium sized room with furniture in it.
Baking soda is an odor absorb and is what will do the heavy lifting as far as eliminating odors from your carpet.
Step Two

1/2 – 1 tsp rosemary or other herbs
You can use any dried herbs or flowers ( good place to find a bunch of different choices is on Amazon) that you would like for this recipe. Rosemary and lavender are both great choices that I personally like using. Just use whatever you think will make your carpet smell great.
I simply used the dried rosemary from my cooking spices.
You can use it straight out of the jar, or if you are a little more ambitious you can powder it by chopping it in a food processor. Running it through the food processor will enable it to be spread more evenly across the carpet as well as release more of a scent when spread.
Something like the small and affordable Ninja Master Prep: Express Chop is perfect for tackling spices without breaking the bank, I just use an old Black and Decker we got for a wedding present, whatever you have will work fine.
Some people like using essential oils like orange or lavender for their homemade carpet freshener instead of dried herbs.
I might be a little paranoid but I think that dark or brightly colored essential oils like orange might have the potential to stain carpeting long term, and hey, why risk it.
Step Three

Sprinkle your Carpet Freshening Powder
I like to use a spoon to shake the powder evenly. Just shake it back and forth as if you were spreading powdered sugar on french toast. I find that this results in a much more even spread than using a shaker.
Some people like to use larger herb shakers, recycled parmesan cheese bottles, and other large containers for shaking their powder. I find that one of these shakers usually dumps the powder out very unevenly, so I don't use them.
Try to avoid making any large piles or clumps of the powder.
Try to spread a thin coating of the powder across the entire floor.
Let the powder sit for five to ten minutes so that it can absorb odor from the carpeting.
Step Four

Vacuum Time!
After letting your homemade carpet freshener sit for a while just vacuum it up.
That's it, you're done, and now you have awesome fresh smelling carpet.
Storing Your Carpet Powder
I just make this deodorizing powder whenever I need it, so I don't personally store it.
As I said above a lot of people like using some sort of shaker bottle like a recycled parmesan container or a large sized spice shaker. I started making my own homemade mason jar shakers, which I find work the best, and look awesome.
However, if I was going to store it I would just use a pyrex tub or something similar because I like spreading it with a spoon.
How It Works
I've used this carpet freshening powder a few times now, and I have been very impressed with how well it works. The baking soda does a good job of eliminating odors from the carpet, and the rosemary leaves behind a nice slightly herby smell which I really like.
This powder isn't nearly as strong smelling as store bought carpet freshening powders. Personally I like that. I'd much rather have a nice herby smell in my home rather than an artificial tropical beach smell.
Keep in mind that this powder doesn't clean the carpet, it is only intended to remove odor. If you find that there is still a deep lingering smell it might be that you will need to do a deeper more serious clean to get rid of the smell.
Let me know how this homemade carpet freshener powder works for you in the comments, and if you liked it feel free to share it on pinterest, facebook, or similar.
– Lance
Homemade Carpet Freshener Powder with Baking Soda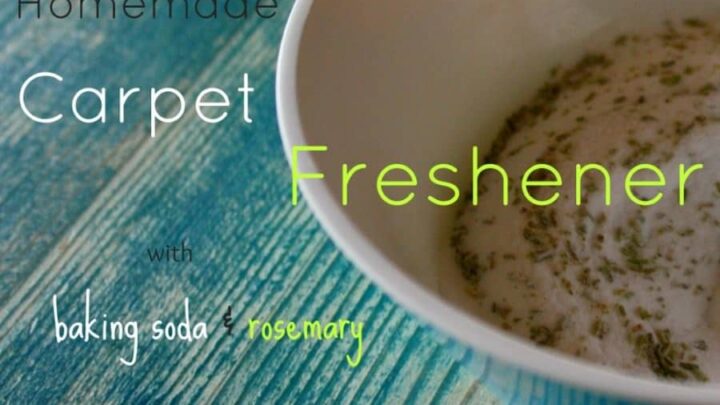 How to make your own homemade DIY baking soda carpet freshening powder. Skip the store and make your own scented carpet freshener.
Materials
1/3-1/2 cup Baking Soda
1/2-1 tsp. Dried Rosemary, Lavender, or Other Herbs (optional)
Tools
Bowl
Spoon
Shaker Container (optional)
Instructions
Add baking soda to bowl.
Sprinkle in choice of aromatic and mix. (optional)
Spoon out evenly over carpet or pour mixture into shaker container and shake over carpet.
Vacuum your newly freshened carpet!
Last update on 2022-11-06 / Affiliate links / Images from Amazon Product Advertising API