Homemade Deodorant Powder With Essential Oils
I've tried a couple homemade deodorant powders here on The Homemade Experiment. I've tried just using Arrowroot Powder as Deodorant which actually works well. I've tried a combination of Arrowroot Powder and Baking Soda Deodorant Powder which works really well.
For this recipe I'm taking it one step further and adding in some essential oils. We're going beyond works well with this one into the realm of smells good too!
I'm not an essential oil expert, but I do know that depending on what essential oils you add you can get benefits ranging from wonderful scents to anti-microbial effects which can help cut down on the stink! So depending on what essential oils you use you can make the perfect deodorant powder with this recipe.
Without further ado, here's how to make homemade deodorant powder with baking soda, arrowroot powder, and essential oils.
Ingredients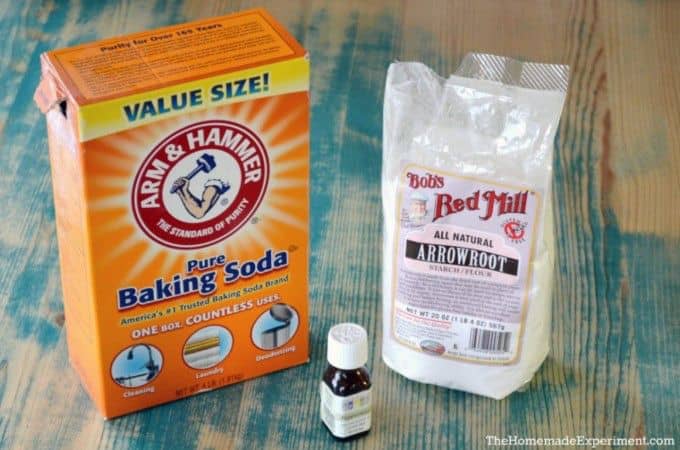 Here's what you need to keep those pits dry and stench free:
Arrowroot Powder, Cornstarch, or Potato Starch
Essential Oils (Lavender, Rose, Pine, or whatever you like!)
Step One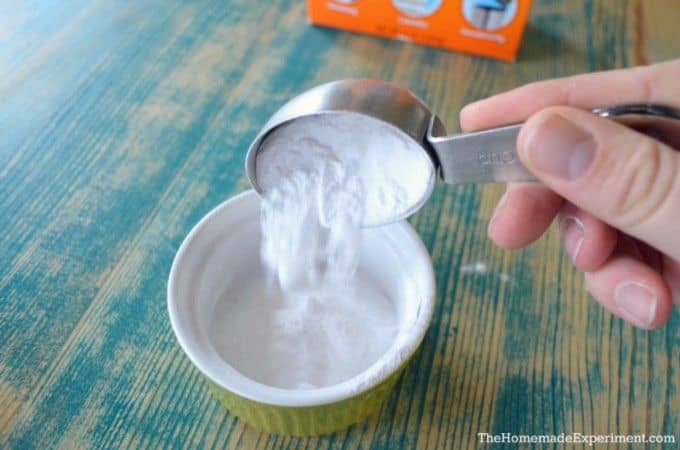 Add 1/4 Cup Baking Soda
For this recipe you want to use equal parts baking soda and arrowroot powder. For my batch I am using 1/4 cup of baking soda.
Baking soda is a fantastic odor absorber, and in this recipe it is what will be keeping your pits from getting stinky.
Step Two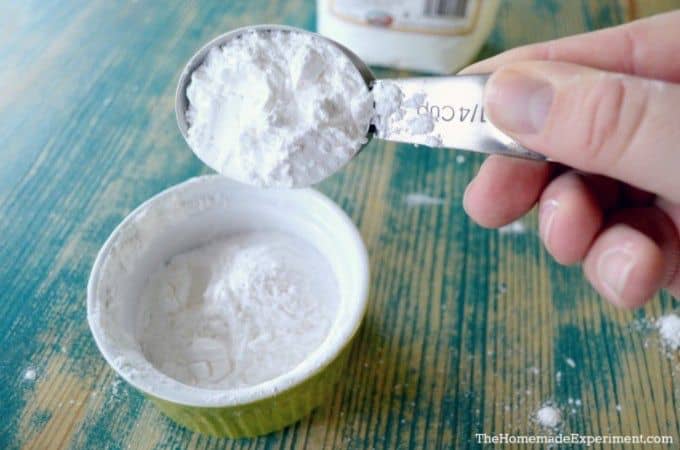 Add 1/4 Cup Arrowroot Powder
Measure out 1/4 cup arrowroot powder. Arrowroot powder can easily be swapped out for something like cornstarch or even potato starch.
Step Three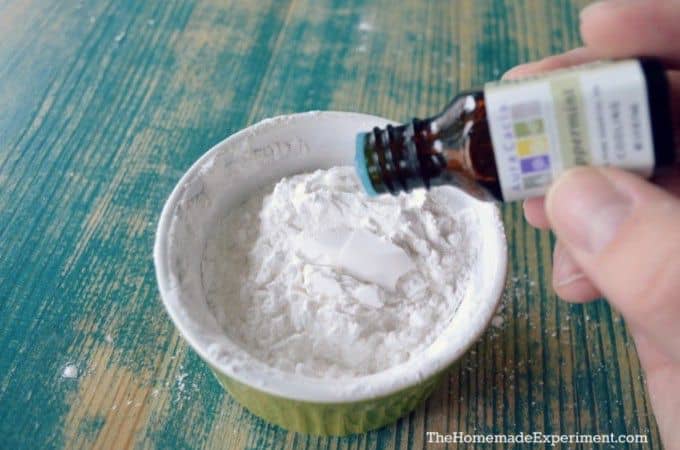 Add 5 – 10 Drops Essential Oil
Next shake in 5-10 drops of your essential oil of choice. I've been on a pine essential oil kick lately so that is what I am using fo mine.
Lavender and rose are a couple of pleasant scents that my wife likes. Use whatever essential oil you like most, just make sure it doesn't irritate your skin first before you apply it all up in your pits.
Step Four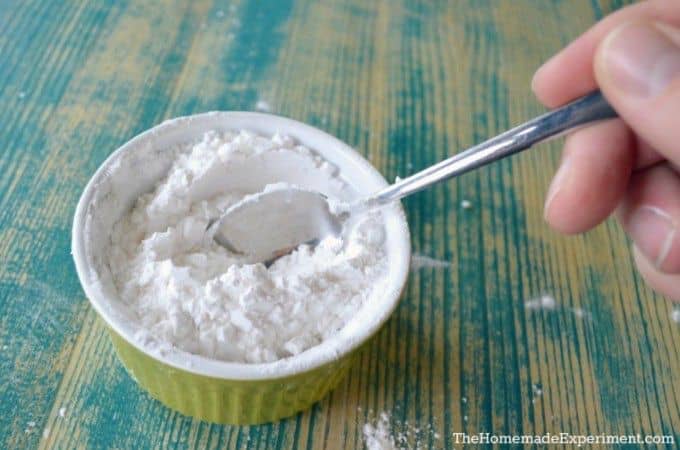 Mix It Up!
That's it for the ingredients, now mix it all up! Shake, stir, or knead it doesn't matter as long as you mix it thoroughly.
You want to make sure that you break up the drops of essential oil as much as possible. If you don't it increases the likelihood that the oil will irritate your skin.
Don't worry though, I've never had a skin irritation issue with this recipe, I just worry about you guys ;).
Step Five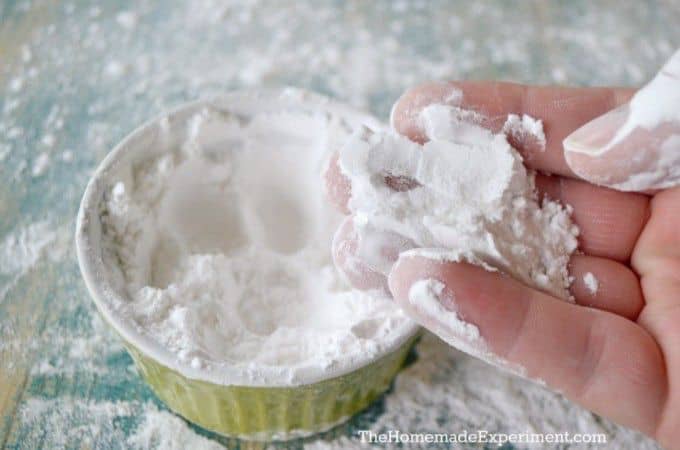 Use it!
Take a liberal pinch of your freshly minted deodorant powder and massage it evenly into your arm pits and you're good to go!
How Does It Work?
This deodorant powder recipe is the most complicated deodorant powder recipe I've made so far. That being said it's still incredibly easy to make and only takes a matter of minutes to make.
This homemade deodorant powder recipe is great! I like it because not only does it work really well, it also smells great too.
I don't know about you, but whenever I buy something scented from the store I'm never happy with how it smells. It's either too strong, too fake smelling, or just gross. With this recipe I get exactly the scent I want every time, and that makes me one happy man.
*****
Thanks for reading! Let me know how this recipe works for you in the comments!
If you found this recipe helpful please like, share, or pin it.
-Lance
How To Make Scented Homemade Deodorant Powder With Essential Oils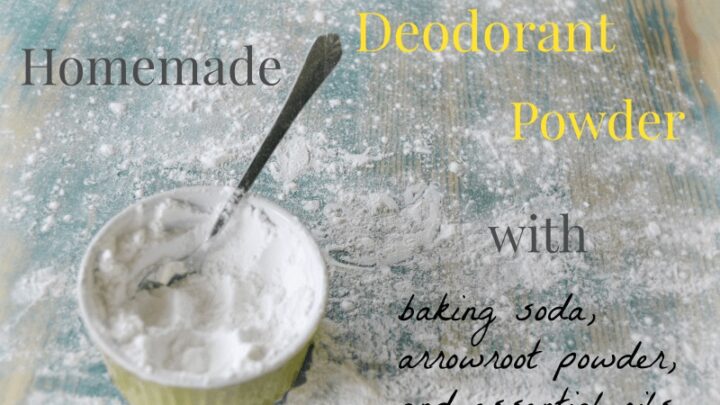 How to make a simple homemade deodorant powder using baking soda, arrowroot powder or cornstarch, and essential oils! It works great and smells even better!
Materials
1/4 cup Baking Soda
1/4 cup Arrowroot/Cornstarch/Potato Starch
5-10 drops Essential Oils
Instructions
Add 1/4 baking soda to small bowl.
Add 1/4 cup arrowroot powder.
Sprinkle in 5-10 drops essential oils.
Mix well with fork or spoon to break up any clumps.
All done! Now take a pinch of your new homemade deodorant powder and massage into armpits!