Easy Homemade Pet Cleaning Spray
I have a particularly large need for a good homemade pet cleaning spray as we have two sickly long haired cats. Both of our cats suffer from what multiple vets say is a virus that will never go away. The result of this is that both cat sneeze mucousy globs all over our house. Combine that with their love of licking and creating the largest hairballs they can possibly make, our need for a good homemade pet stain and odor spray is great and constant.
I got tired of buying expensive natural cleaning spray from the fancy pet store so I decided to make up a bottle of my own homemade pet cleanup spray to see if I could find a replacement that worked just as well without the cost.

Pet Mess Cleaning Spray Ingredients
(Links are for Amazon.com products)
That's all we need, let make our pet cleanup spray!
1/3 Fill With Water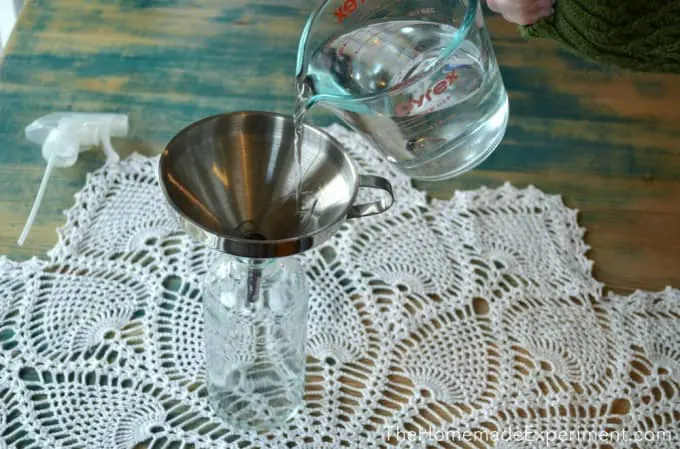 Fill your container roughly 1/3 of the way with water. We are adding a bit of water to thin down the vinegar so it isn't too strong. Don't worry though, it's been strong enough to clean up anything our cats have been able to throw our way!
Fill With Vinegar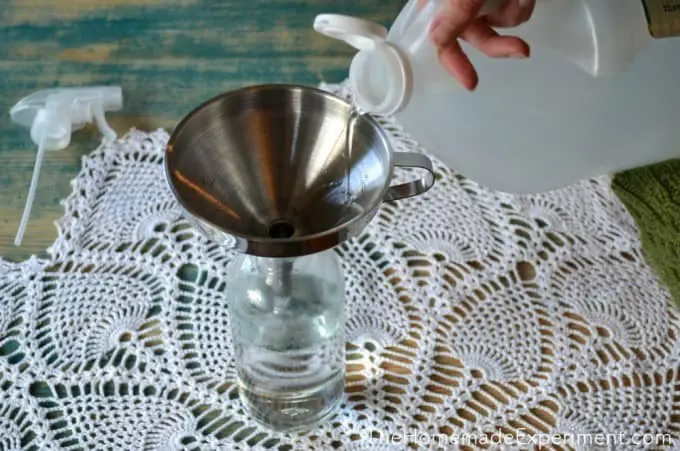 Now, fill your spray bottle the rest of the way with vinegar. Vinegar is our cleaning agent in the recipe and is what will do the heavy lifting of cleaning up the pet urine or throw up.
I love recipes like this where you don't need to be too precise and it stills work great!
Add Essential Oils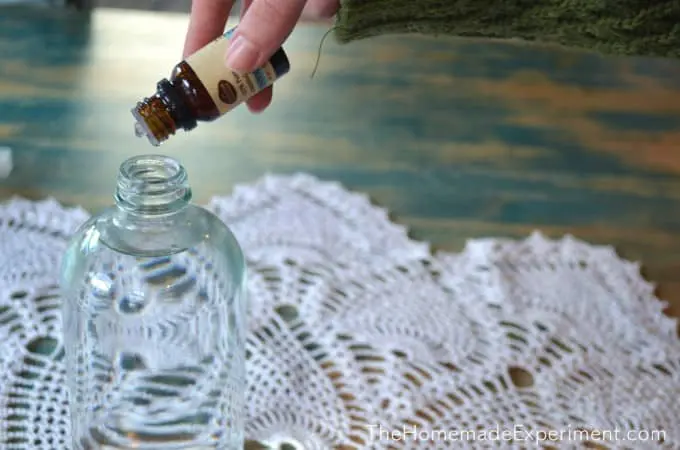 Last but not least, splash in a bunch of essential oils! I typically use 15-25 drops of essential oils (roughly 5-7 drops per cup of cleaning solution) depending on how strong the oil you have chosen is.
I try to pick oils that will help to mask odor somewhat during cleaning as the vinegar and pet mess you're cleaning up are both pungent. When I make pet clean up spray spearmint is my essential oil of choice.
Using Your New Pet Cleaning Spray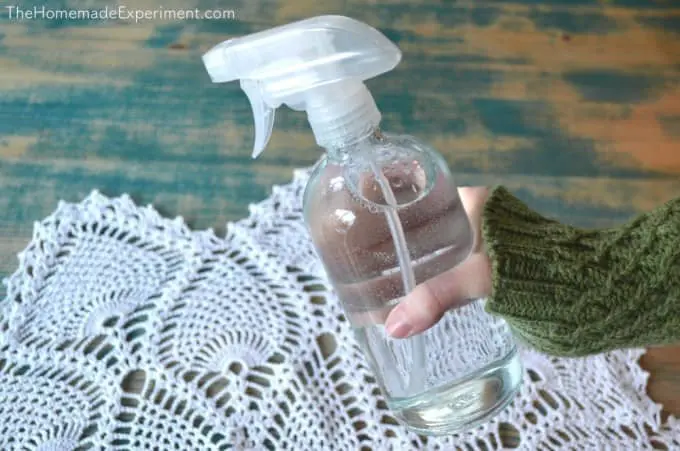 That's it, give the bottle a quick shake to mix everything up, and you're good to go.
It is best to pre-wipe up any pet mess that you can so that the afflicted area is as dry as possible before you start spraying. This helps keep from spreading the mess around rather than cleaning it up.
After that, spray the affected area. If need be, let any dried areas soak before wiping up the area.
Wipe up the mess. I can't bring myself to use towels or even rags for this. I don't know, it's just too darn gross! Instead I opt for the next best option washable/reusable bamboo paper towels. These things are eco friendly and not nearly as wasteful as using normal paper towels, seriously they work great, check them out.
Lastly, jump for joy, and celebrate a chemical free pet mess cleanup.
How Well Does This Homemade Pet Spray Work?
It works fantastic! I have been using this pet spray as a full-time replacement for the past year and it has been great! It works just as well as the natural cleaning spray I'd been using previously and I can add a bunch of essential oil to my own spray to help mask icky smells. This is one of those homemade alternatives that is just so good you never look back. As long as you've got a jug of vinegar, some essential oils, and a spray bottle laying around you're good to go!
How To Make Homemade Pet Stain & Odor Spray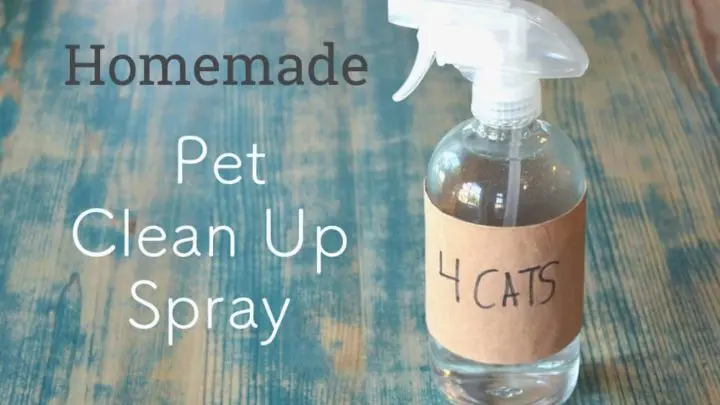 How to make homemade pet stain and odor remover spray with water, vinegar, and essential oils. It works and smells great!
Materials
Water
White Vinegar
15-20 drops Essential Oils
Tools
Spray Bottle
Funnel (Optional)
Washable Bamboo Paper Towels (For Clean Up)
Instructions
Fill spray bottle 1/3 full with water.
Pour in vinegar until spray bottle is full.
Add 15-25 drops essential oils.
Twist spray top back on and give the mixture a little shake.
Jump for joy, and celebrate a chemical free pet mess cleanup!