Homemade Shoe Deodorizer Recipes To Fight Foot Stink!
It's summertime and the foot stink epidemic is running rampant. To help you fight those horrible smells here is a list of how to deodorize shoes in just a couple of minutes with a great diy shoe deodorizer remedy!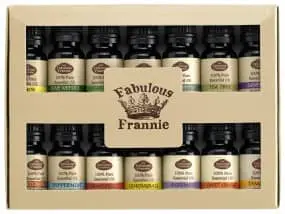 When you're making your own homemade shoe deodorizers adding a few drops of essential oils will help your shoes to smell great, and in some cases, also help to fight the odor producing bacteria that live in your shoes.
If you don't have any essential oils I recommend getting a starter set like this great starter set of essential oils from Fabulous Frannie on Amazon. The set has 14 essential oils to get you started. It was hard for me to pick out my first few essential oils because I didn't know where to start. This should help point you in the right direction!
Here are 10 homemade shoe deodorizers, with essential oils generally optional, to keep your feet fresh. First, a couple from The Homemade Experiment!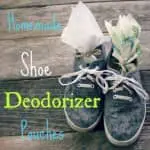 This is my favorite smelly shoe remedy method so far. All it takes is some baking soda, arrowroot powder, and some essential oils all wrapped upon a bit of cloth. I like this method because it's not as messy as dumping powder into your shows and hey it's kind of cute too.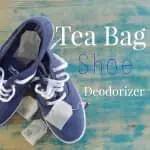 This is my second favorite DIY shoe deodorizer. I love it because it's so simple. Just chuck a couple of tea bags into each shoe and let them sit for a day or two, that's it! The dried leave will help to absorb any lingering smells or odor producing moisture.
I like to use old tea bags for this, or if I happen to buy some tea I don't like, those work too. One little note of caution, if you do put tea bags into damp shoes you run the risk or producing some tea colored staining in your shoes, so be careful.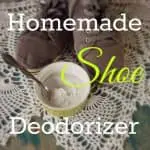 This shoe deodorizer is messy, it will get all over the place, and sometimes that's just what we want! This recipe is basically the same as the deodorizer sachets above but instead of wrapping the powder nicely in cloth we'll dump it straight into our shoes.
This is the method to use when you really need to get deep in there to dislodge some serious foot stench. A little bit of baking soda, arrowroot powder, essential oils, a liberal dose of time (2-3 days) and your shoes will be smelling like roses (assuming you used rose essential oils).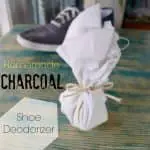 You can make your own odor eater shoe balls by using charcoal either a crushed briquette that isn't pre-soaked in charcoal starter, aquarium charcoal, or some Bamboo Activated Charcoal from Amazon. Stuff the charcoal powder to either an old sock or pair of tights and twist it up to make your own charcoal shoe deodorizers.
Homemade Shoe Deodorizer Spray
Another great shoe odor remedy is to make your own shoe deodorizer spray. This simple recipe uses water, vodka, and essential oils. Add your ingredients to a spray bottle and you're good to go. I'm not the biggest fan of spray shoe deodorizers, I don't like that I'm stuck with wet shoes until they dry out just in case I want to wear them. If you're looking for a shoe deodorizer spray then give this one a shot. Check out this post on Tread Lightly for a detailed post.
Pre-made Shoe Deodorizer Options
If you are looking for a natural pre-made shoe deodorizer for those days when you don't feel like putting in the effort I highly recommend trying out Moso Natural odor fighters. Read my full Moso Natural review here.
Other Shoe Deodorizers
Here are a few more shoe deodorizer methods. Your mileage may vary a bit with these. The primary idea behind most of these is that they will help to soak up some of the offending odor monsters in your shoes.
Cedar – place a block of cedar in your shoes while not wearing them
Newspaper – place crumpled newspaper in shoes overnight to soak up moisture, you can even splash a few drops of essential oils on the papers too
Orange Peel – Place 1 or 2 orange peels in your shoes overnight
Kitty Litter – Pour some unused kitty litter into an old sock and leave it in your shoes overnight to soak up odor
Dryer Sheet – Stuff a couple of dryer sheets into each shoe and leave them over night to fight odor
There you go! There should be at least one shoe deodorizer method on this page worth trying out! Give a few a shot and see what works best for you.
If you're looking for some essential oils to make one of these recipes try out this starter set to help you find the scents you like best so you don't waste money buying larger bottles you might not like.
Let me know how these home remedies for smelly shoes work out for you in the comments and thanks for reading!
-Lance