I ran across the Moso Natural Minis awhile ago, and, they have always seemed like a great option to manage minor odor issues in shoes, bags, and other mildly smell places.
Usually, I just make my own baking soda air fresheners or one of my own home remedies for smelly shoes. But … sometimes I'm really lazy. To make sure that the battle against bad odors continues when I am at my most lazy I decided to review Moso Natural and give them a shot!
This review is for the Moso Natural Mini Air Purifying Bags, but in general it will apply to other Moso Natural products as the are just different sizes and use the same charcoal filling as these.
Summary: Do Moso Natural deodorizers work?
Moso Natural deodorizers really do work. Charcoal is a great way to manage minor odor issues and the Moso Natural Mini is a great way to get the power of charcoal while avoiding the mess, and risk of getting charcoal powder everywhere, of making your own deodorizers..
It's important to point out that they are not going to fix odor issues caused by poor cleaning(and I've tried, lol).
Pros
Easy-to-use
Affordable
Chemical-free
Absorbs odor & moisture
Cons
DIY can be more affordable
How to use Moso Natural deodorizer bags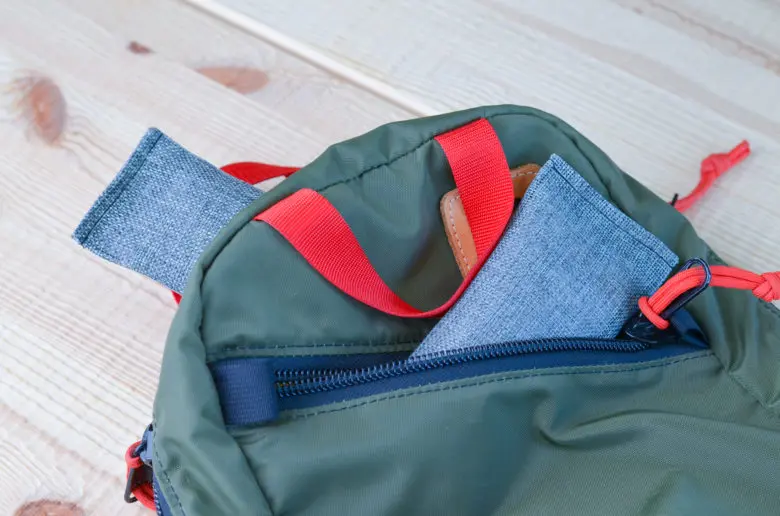 Using these is a simple as throwing them in a bag or shoving them into your stinkiest shoes.
Don't worry, they won't get charcoal all over your things! I didn't notice any charcoal powder whatsoever falling off these bags. They should be safe to use on all fabric types!
These one's are marketed as great for shoes, gym bags, and sports gear but you can use them in a bunch of different ways.
In Shoes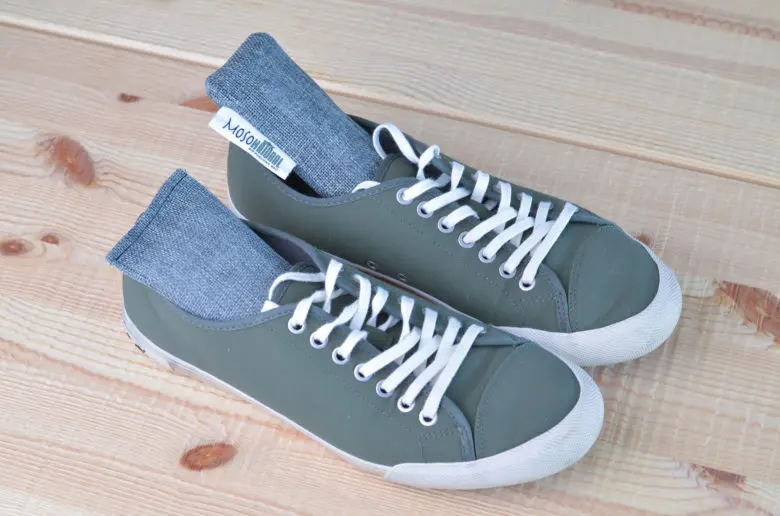 You'll get the best results if you loosen your laces and shove the bags down into the shoes as deeply as you can. This will help to ensure maximum odor absorption!
Under the sink
I just placed mine under the sink next to my full lidless garbage can and left them to work for a few days. This is not as easy to declare a success. To me it smelled better after a couple of days even without emptying the can. It's hard to say though for sure how much of this was due to the bags versus other factors.
In a must closet
We have a closet in the basement that gets used very little and it can get a stale smell to it if it isn't aired out from time to time even though it is very dry. I put the other charcoal bag into the closet and after a couple of days I started to notice the closet beginning to have a cleaner less dusty scent. I will call this one a solid success.
Other places to use them
Clothes storage boxes to fight those musty smells. Closets, the car, in a diaper or litter locker, under the sink with the garbage can. This list could probably go on and on. I really like this size and the fact that you get two of these little guys per package, it makes them very versatile.
Why is charcoal good at deodorizing?
Caring for your Moso Natural charcoal deodorizers
These are also super easy to maintain and keep working at their best for as long as possible.
How to rejuvenate and recharge your charcoal bags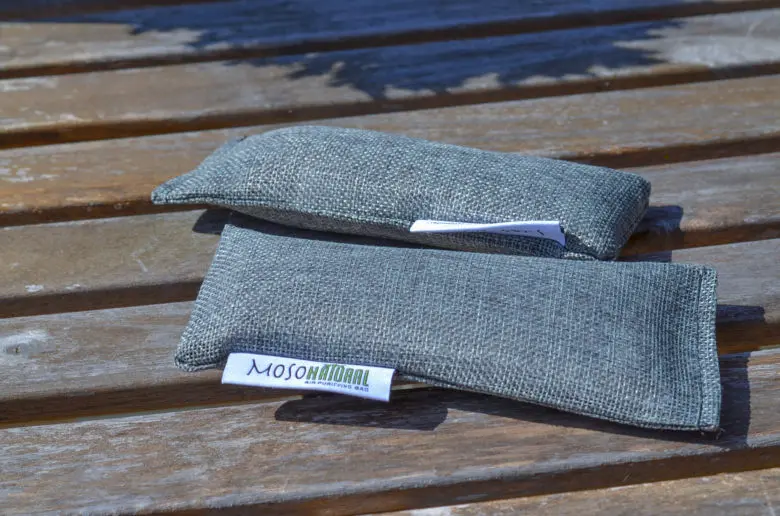 How long do they last?
According to Moso Natural these will last up to two years if you are diligent about rejuvenating by placing them in the sun about once a month.
I think that this is a pretty realistic expectation. I have made my own diy charcoal shoe deodorizers previously. My homemade option worked great at fighting shoe odor for more than two years before they needed replacing as well.
Write the opened date on the tag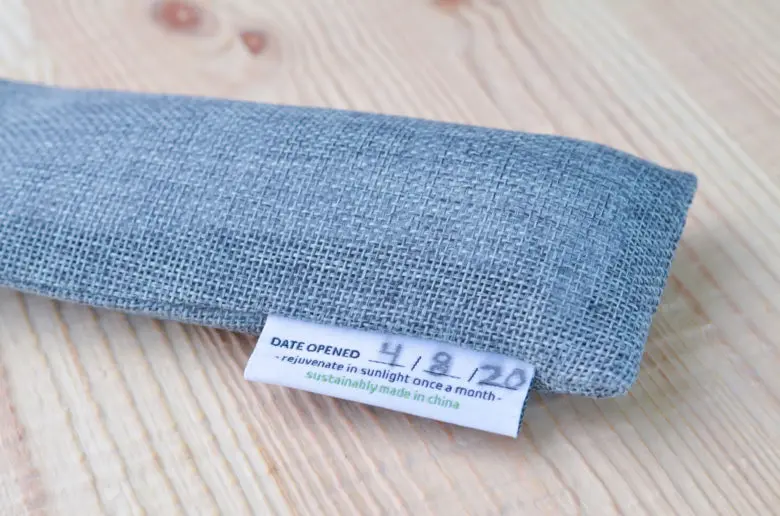 I really like this touch, the tag on each of the bags has a place to write in the date that you opened them.
This will help you to know when it's been a month and it's time to place them in the sun for a quick rejuvenation.
It will also let you know when that two years is up and it's time to replace them.
How to dispose of them once they have been used up
I really like that these bags are not filled with chemicals making them super easy to recycle.
Once your Moso Natural's have reached the end of their life you can just cut them open and spread the charcoal in your garden or outside. Charcoal is great for soil and most plants will love it.
You can also recycle the outer fabric at a textile manufacturing facility.
Are Moso Natural bags worth it?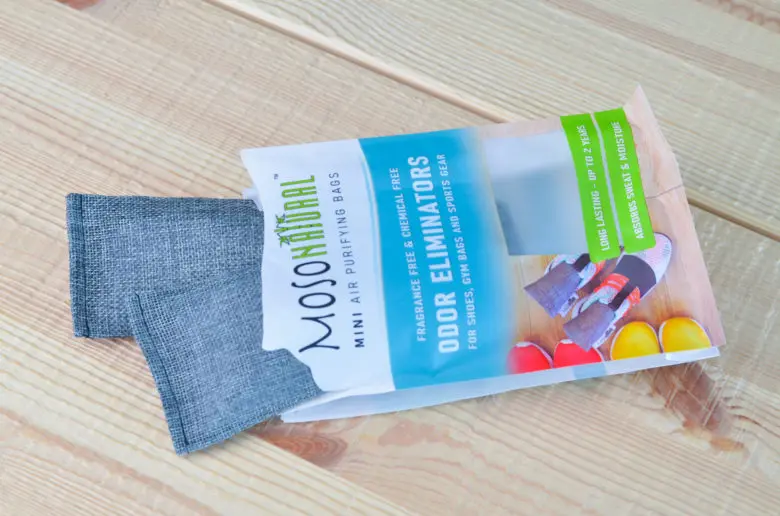 In my book yes 100%. Are they an industrial strength odor fighter no way. But they are a great option for managing everyday odors.
They work great in shoes and small places and if I'm lazy or don't have the time to make my own air fresheners and diy shoe deodorizers these will be my go to odor fighters.
Alternatives to Moso Natural charcoal bags
There are a ton of competitors on amazon now offering more or less the exact same product as Moso Natural. Personally, I like Moso Natural's the most since they are an established USA based business run from Sacramento California.
Last update on 2023-12-02 / Affiliate links / Images from Amazon Product Advertising API