My List of Homemade Essential Oil Diffusers From Around the Web
Everyone loves a great smelling home. Scented candles can be a great way to do that, but they can be extreme costly or loaded with chemical scents and other not so awesome things.
Here are some great and simple to make homemade essential oil diffusers that will fill you home with lovely scents for a fraction of the cost with ingredients you can understand and trust because you chose them yourself.
I have only tried a few of these myself, but I've put this list together as a resource for myself and others to try in the future. I hope you find it helpful.
If you are new to using essential oils, pick up this great starter set of essential oils.
This set includes 14 great scents to get you started with essential oils. I know it was hard for me to pick out my first few essential oils because I didn't know where to start. Hopefully, this set will help point you in the right direction!
If you're feeling really ambitious you can also pick up a book like Essential Oils for Beginners to get you started. This book has a lot of great tips and ideas for getting into the wide world of essential oils!
Related Posts:
How to make a Homemade Reed Diffuser
How to Make a Homemade Diffuser with Water
How to make Reed Diffuser Oil Refills
Rattan Reed Diffuser Buying Guide
Best Containers for Reed Diffuser
My Homemade Essential Oil Diffusers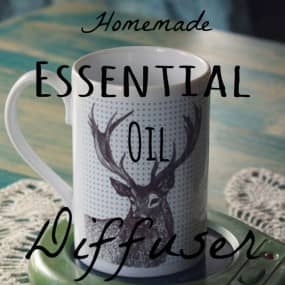 This was a diffuser idea that I thought up all on my own, and to this day it's still my favorite. I'm not always the most patient person, so when I want my house to smell like pine I don't really want to wait for a few hours as reeds slowly suck up a disperse essential oils into the air.
This diffuser uses a candle or mug warmer to heat and evaporate a water and essential oil mixture into the air. Bottom line, it works fast, and it works very well with out the waste of candles or reeds that will eventually be thrown away.
In general I don't like buying electronic gadgets unless I truly have a need, but my candle warmer has been going for years with no signs of failure and as I said saves on other waste so it seems worthwhile to me.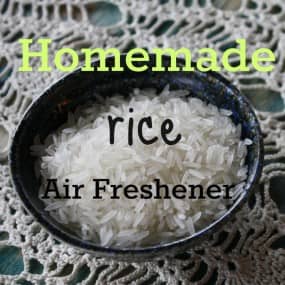 This is another air freshener/diffuser that I really like. I made one the other day, and I forgot about it, but each time I walked by it I caught a little whiff of it on the air.
This diffuser doesn't put out nearly as much scent as the one above does, but it radiates a soft scent whenever you're near. I was happily surprised by this one, and it is one I will continue to use from time to time.
It is genuinely really easy to make, so give it a shot.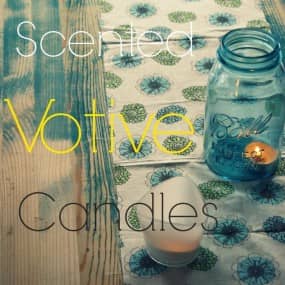 Here's another really easy way to make your air smell good. All you need for this one is a few votive candles and some essential oils to make your house smell awesome.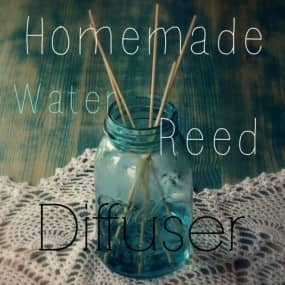 I like the idea of using water in a reed diffuser, it requires fewer special ingredients because it doesn't use a base oil, and is a little easier to make.
If this reed diffuser gets spilled it is much easier to clean up, and it's safer for children and pets in case they mistakenly drink the liquid, as it is primarily water based. Some people find that these work just as well as oil based diffusers while others have no success at all.
One reason I really like this method is because many people have problems with their carrier oils going rancid when making oil based diffusers so this is a good low maintenance and affordable option.
You can also checkout my reed diffuser stick buying guide if you decide to go this route.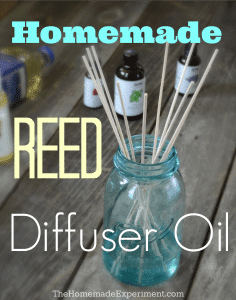 In this post I go a bit more in depth on how to make your own homemade diffuser oil. From options to consider when choosing a base oil to experimenting with essential oils.
If you've never owned let alone made a diffuser before this is a great place to start.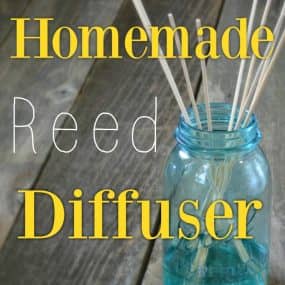 In this simple reed diffuser recipe post we make a reed diffuser with rattan reeds, a handy mason jar, fractionated coconut oil for our base, and essential oils.
This is one of the more basic reed diffuser recipes. I find that it does work a bit better than the water reed diffuser.
I know this is a downside for some as having an open jar of oil laying around the house is not exactly ideal. I will say it still does have the upside of not needing alcohol. From my testing it works just fine without.
Reeds Diffusers
A quick tip about making your own reed diffuser: Many sites will suggest using wooden skewers instead of buying reeds for the diffuser. However these skewers tend to be made of bamboo and therefore most likely won't work at drawing up the liquid due to the nature of bamboo.
That being said, some people do have success using small twigs or stems as a readily available alternative.
Using real reed diffusers, made from rattan is your best bet (source). However…if you've personally had a contradictory experience please let me know in the comments.
Check out my rattan reed diffuser stick buying guide for some really great options for your next diffuser project.
This is the primary method of making your own homemade reed diffuser floating around the internet. It consists of using a carrier or base oil usually mineral, jojoba, almond, or safflower oil, an alcohol, and essential oils.
If you want a more traditional reed diffuser this one is for you.
This reed diffuser from the doTerra blog is a little more straight forward than the one above. It only uses coconut oil and essential oil to make the diffuser liquid.
I like this one for it's simplicity, but I'm not super excited by the idea of having an open container of oil laying around my house. It's only a matter of time until I knock it over.
Essential Oil Diffusers with Candles
I really like this idea, and I will be trying it out in the next few days for sure (and I did, check out my DIY scented votive candles post). This is essentially making your own homemade scented candle.
Just drop a couple of drops of your favorite essential oil into an unscented candle and your done. It's really simple, and really easy.
This might be the alternative I've been looking for because it satisfies my love of fire and candles with a much more affordable price than store bought scented candles.
This homemade essential oil diffuser idea is similar to the one above, however, instead of putting the essential oils directly into the candle this uses an aroma therapy oil diffuser (or you could use a wax melter) to diffuser the essential oil into the room.
One benefit of this method is that much of the candle soot should get caught within the oil diffuser/wax melter rather than being released into the air. For the asthmatic and smoke sensitive this might be a little better than the previous option.
Other Diffuser Ideas
This is another really neat simple essential oil diffuser. This diffuser is very similar to the rice essential oil diffuser.
All you need are a few bits of wood and your favorite essential oils.
Wood, similar to rice, is absorbent and will soak up, then slowly disperse the essential oils over time. Go and check it out, it's really simple, and works great too. The woodblock diffuser is the second item on their list.
In all honesty this is something I might never try, but I had to include it because it is unique and could have some great uses. Jillee makes small one inch pendants out of terra-cotta which is very absorbent. She then adds one drop of essential oil to the pendant which is then worn.
I won't be sporting a terra-cotta pendant anytime soon, but I can think of some other great alternative uses:
Many people will spray or place a lavender essential oil covered cloth inside their bed sheets to help them sleep at night. As an alternative you could hang a small lavender-covered pendant near your head for the same effect.
Another idea that I will most likely end up trying is to make Christmas tree ornaments. These would be especially great for people with fake Christmas trees.
They could be made in the shape of gingerbread men which is perfect since they are the same color. You could drop a little pine essential oil, or other festive scent onto each little terra-cotta gingerbread man, and have a fake tree with all the great smell of a real tree.
---
If you're not sure what essential oil you should buy first, try out this starter set to help you find what scents you like so you don't waste money buying larger bottles you won't like.
That's it so far, I will add to this list as I find more homemade essential oil diffusers to try.
Let me know how these work out for you in the comments, if you found this post helpful please share it.
– Lance
Last update on 2022-11-06 / Affiliate links / Images from Amazon Product Advertising API