If you are a love of Christmas smells and after dinner mints this is a great way to get those smells without the smoke … or fire.
In honor Christmas and take out food, here's how to make a peppermint oil diffuser.
Ingredients
Ingredients ready? Cool, go time! Let's make your diy peppermint reed diffuser.
Add 1/4 cup carrier oil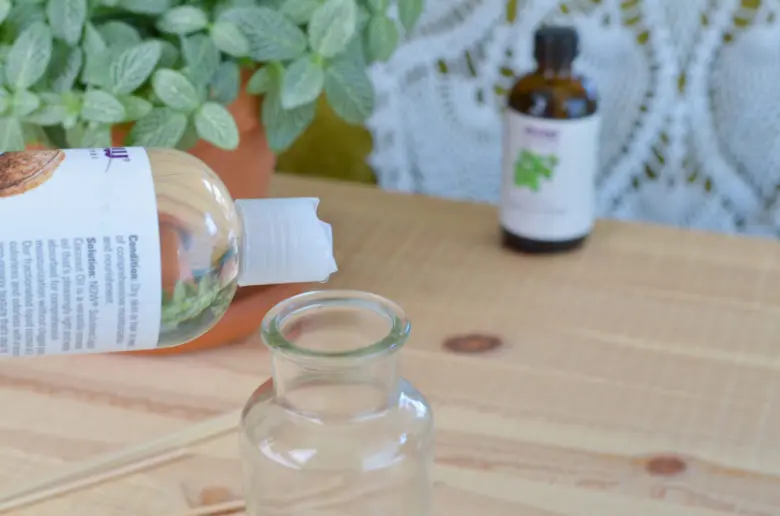 In my peppermint reed diffuser I am using fractionated coconut oil as my carrier oil. Pour 1/4 cup of fractionated coconut oil into your diffuser container of choice.
The carrier oil is what is going to thin down your essential oil a bit so that you don't have the full on eye-watering essential oil scent from the peppermint oil.
You can use a few different carrier oils in your diffuser. For me though, fractionated coconut oil is the best choice for a quick diy reed diffuser.
Add 25 drops peppermint essential oil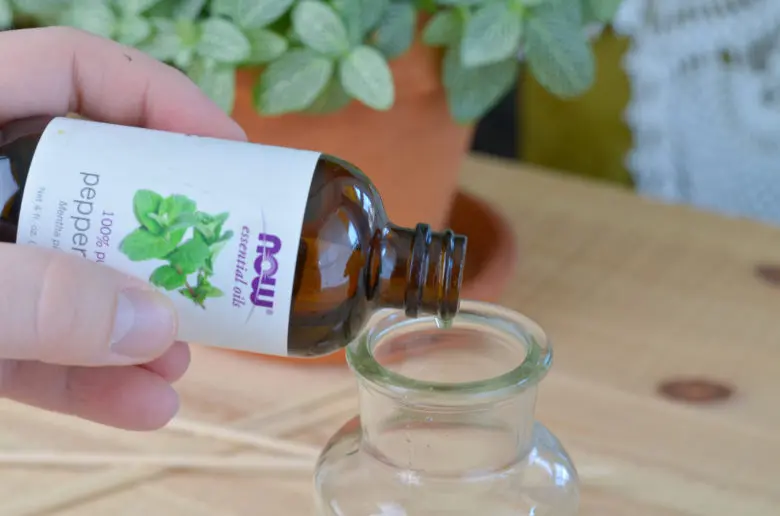 Next, shake in a bout 25 drops of peppermint essential oil and give the container a little swirl to evenly mix.
You can always add in a few more drops after leaving it overnight if you need to.
A note on essential oil: Try to find 100% pure essential oils. They will usually smell better and have no fillers!
If you just after a peppermint diffuser refill oil recipe then stop here! But, if you want to make a full diffuser keep reading.
Plonk in 5-7 rattan reeds
I usually start by adding 5 rattan reeds and leaving the diffuser to work overnight.
To following day, if the scent isn't as strong as I'd like it to be, I will add a couple of more reeds to get the right level of scent! If that still isn't enough I will add in a few more drops of essential oils to dial it in!
If you find the reeds I'm using a bit boring and instead want some black or swirly twirly reeds thos options are available as well, check out my best rattan reeds for that.
Set yourself a reminder to flip your reeds once a week to refresh their scent.
You now have a homemade peppermint diffuser, enjoy!
I suggest trying to find a nice place for your peppermint reed diffuser away from small children or pets. Now sit back with a cup of cocoa and enjoy the Christmas vibes!
For another festive scent checkout how to make a cinnamon reed diffuser!
Pre-made Peppermint Diffusers
For when you just don't have the time, a pre-made peppermint diffuser will do the trick. Keep in mind though that pre-made options will typically use fragrance oil rather than pure essential oils.
DIY Peppermint Reed Diffuser
Here's how to make your own quick diy peppermint essential oil reed diffuser perfect for the holiday season!
Ingredients
1 narrow neck diffuser container
1/4 cup carrier Oil
25 drops of peppermint essential oil
5-7 rattan reeds
Instructions
Add 1/4 cup carrier oil to narrow necked diffuser container
Add 25 drops peppermint essential oil and swirl to mix
Put 5-7 rattan reeds in the diffuser container
Put your diffuser in a safe place away from pets and children and enjoy that awesome pepperminty smell!
Last update on 2023-12-02 / Affiliate links / Images from Amazon Product Advertising API