Here's Eight Easy Homemade Deodorant Powder Recipes
There aren't a ton of homemade deodorant powder recipes around, so I scoured the internet and found a few awesome homemade deodorant powder recipes.
I haven't tried out all of these recipes myself yet, but they all use basic non-chemically ingredients that should all mix together to fight odor, and absorb moisture. I will definitely be trying out many, if not all, of these recipes over time, and will make updates as I do.
Now pick a recipe and start fighting odor without a ton of chemicals smeared in your armpits all day!
Several of these recipes use essential oils, so if you're just getting started with making your own homemade goods, check out this essential oil starter kit to get your essential oil collection kick-started.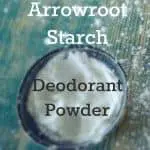 This is my experiment with using a starch all by itself as a deodorant powder. For my experiment I used arrowroot powder, you can just as easily use cornstarch or arrowroot powder to get the same result. Click through to read about my experience using starch as deodorant powder, spoiler it does work well.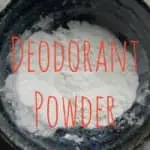 First, a basic homemade deodorant powder recipe here on The Homemade Experiment that you can mostly likely make with ingredients you already have laying around your house, and it only takes a couple minutes to make. This recipe uses only baking soda and cornstarch or arrowroot in equal parts.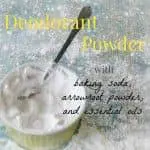 This is my favorite homemade deodorant powder I've tried so far. This deodorant powder recipe uses three simple ingredients, baking soda, a starch, and your favorite essential oil. It balances absorption, odor fighting, and a pleasant scent for a deodorant powder that gets the job done and is crazy easy to make.
This recipe is essential the same as the one I have on The Homemade Experiment. It is just equal parts baking soda and cornstarch, however, she has added in tea tree oil and bay leaves.
This is a slightly more involved deodorant powder recipe. Her recipe is about halfway down the page, and it includes a combination of baking soda, cornstarch, and arrowroot. This recipe uses a lot less baking soda than the recipe I have here on The Homemade Experiment which might be good or, it might just make it worse at absorbing odor.
This is a little bit more complicated powder deodorant recipe for men. The recipe uses baking soda, arrowroot, cornflour, and essential oils. The post has some good recommendations for essentials oils that men might like to add to their homemade deodorant whether they be powdered or solid.
This is another really easy powdered deodorant recipe, and only uses a couple of ingredients and is fast and easy to make. It uses baking soda, cornstarch (you can substitute arrowroot powder), powdered coconut milk, and pineapple essential oil. This recipe should smell great, I will definitely be asking my wife try this one out!
This is a a more complicated powdered deodorant recipe than the others. However, it is still just mixing a bunch of powders together with essential oils. I haven't tried out this recipe myself yet but it seems that it has been formulated to to smell great and work very well. This deodorant contains baking soda, arrowroot powder, calcium bentonite clay (bentonite clay info), zeolite powder (zeolite info here), rosemary, and thyme essential oils. The calcium bentonite and zeolite are supposed to add several benefits to the powder including balancing pH, removing heavy metals and toxins, as wells as boost the immune system.
There you go! There should be at least one recipe in there that strikes your fancy, so go and make it, and let me know how it turns out in the comments.
If you find yourself in need of some supplies for making your own deodorant at home, you can find most ingredients on Amazon.com. Any purchase you make there will support me in continuing The Homemade Experiment, so thank you in advance.
If you like this post please like it, pin it, or share it however else you know how.
-Lance