DIY Reed Diffuser Oil Refill Recipe
If you want to learn how to make a reed diffuser oil refill at home from scratch to fill your home with that perfect scent for a fraction of the store-bought cost.
If you are planning to make your own diy reed diffuser from scratch or you have a store bought diffuser in need of diffuser replacement oil you are in the right spot.
I'll show you a few of your options for base oils as well as provide a couple of essential oil suggestions for scenting your diffuser oil.
If you're interested in what all your options are for making your own homemade diffusers check out my post on how to make diy essential oil diffusers.
Related Posts
How to make homemade diffuser oil
Add 1/2 cup of base oil
Pour 1/2 cup of your base oil into a bowl or bottle that you can use for mixing. Personally, I like using a bottle so that I can just shake to combine the ingredients.
For my recipe I am using fractionated coconut oil. See the section below on base oils for more options and why I chose to use fractionated coconut oil in my recipe.
Then add 30 – 50 drops essential oil of your choice
The reason I have such a large range here is because the strength of essential oils varies so widely across manufacturers and plants.
If you aren't sure start with 30 drops. Test it out in your diffuser and if its not strong enough add in more drops until you get it to just the right place. Then just make a note for next time so you know exactly how many drops you'll need for your oil of choice.
You can try out an essential oils starter set if you aren't sure what scent you want to make your diffuser oil already!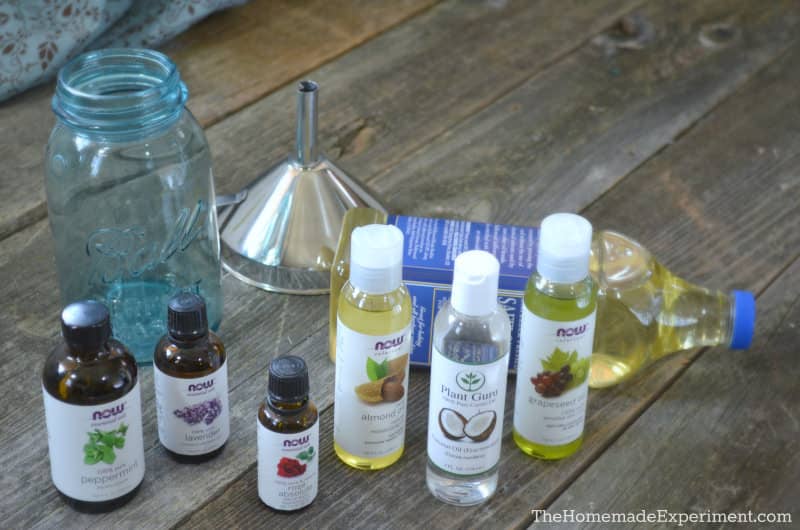 Mix together thoroughly
That's really it, if you're using a bottle you can give it a good shake to combine the ingredients and your good to go. You just made yourself a fresh batch of reed diffuser oil refill!
Finished homemade reed diffuser oil refill
Pour your diy diffuser oil into your diffuser of choice. Throw in a few reeds and your good to go. Enjoy that sweet sweet diffuser smell!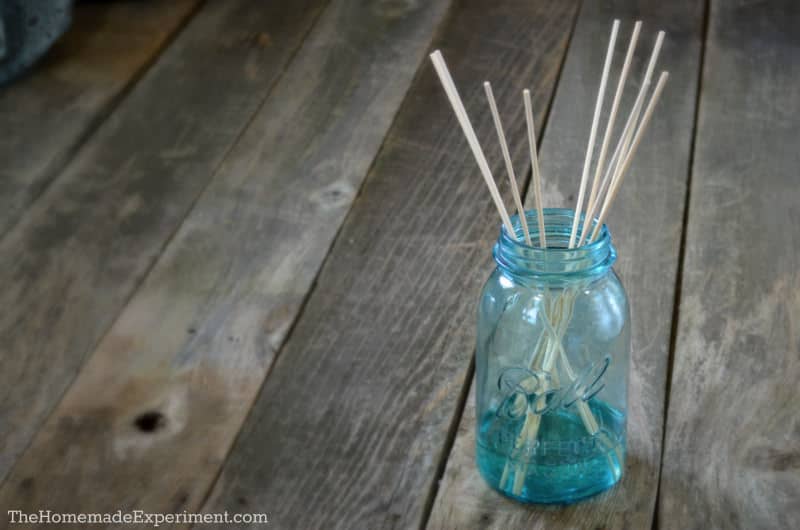 You can also check out my full post on how to make your own homemade reed diffuser that you can use your new batch of diffuser oil in when its done!
How well does this diffuser oil work?
In my experience this diffuser oil recipe works great. My mason jar diffuser is sitting on my mantle as we speak filling my living room with a lovely gentle peppermint fragrance just as your new diffuser will be doing soon too.
With that in mind let's explore the two ingredients of diffuser oil: base(carrier) oils and essentials oil.
Making diy diffuser reed oil is very simple, but it can feel a bit overwhelming especially when you start looking into your different ingredient options.
I like making diffuser oil because once you learn how to make diffuser oil you realize it can be made from loads of different ingredients.
I love that there are a ton of options because whenever I decide to make more diffuser oil I always have enough oil of some kind laying around to make a fresh batch of diffuser oil.
DIY reed diffuser oil refill ingredients explained
There are two main ingredients and a third optional ingredient when you are making a diy reed diffuser oil. The first two ingredients are a base oil and essential oil which I'll dive into more detail next since there are so many options to choose from.
Lastly, I'll talk about using alcohol in your reed diffuser oil refills. It can help improve the effectiveness of your reed diffuser oil refill, but for many people using alcohol is not a step they want or need to take.
Diffuser base oils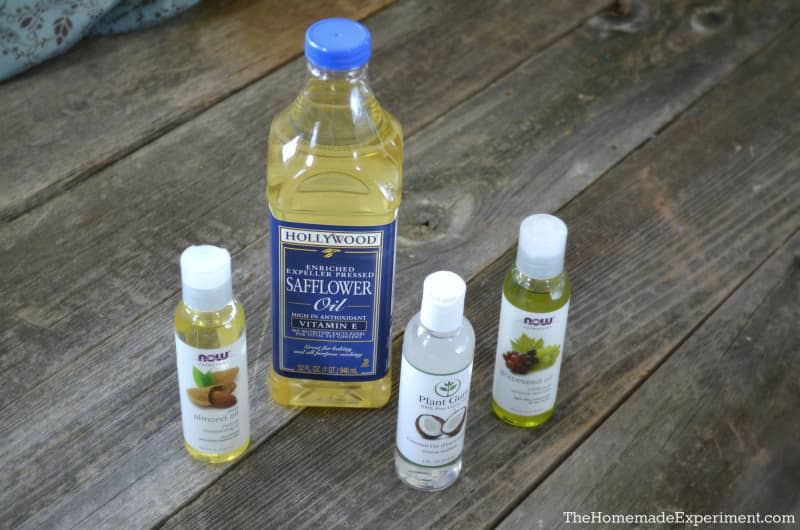 What do base oils do?
The base or carrier oil is the backbone of our diy diffuser oil. This oil will help to "water down" the essential oils that you choose to use.
The base oil will also carry your essential oils up the diffuser reeds so that they can diffuse into the air. Without the base oil your homemade reed diffuser would be overpoweringly strong.
Picking a bas oil
For my homemade diffuser oil I wanted to choose a natural oil as my base. There are a lot of options for your base oil, I ordered up 4 recommended options I'd seen around the internet.
Common base oils
Note: Although mineral oil might sound like something that would be nice and natural. Mineral oil is actually a petroleum product which automatically disqualifies it from contention in my book.
It might seem overwhelming trying to pick the right diffuser base oil, but trust me it's not. In the end any of these oils will work. However when selecting a base oil consider its thinness and color.
Thinness
The thinner an oil is the better it will be drawn up your reed diffusers. Of the four base oils I ordered, I personally recommend either fractionated coconut oil or almond oil because they are the thinest oils of the bunch.
Color
The color of a base oil may not be a major issue for many, but if you are going to be using a transparent container the color of the oil may be a deciding factor for you.
Many base oil options have a yellow tint to them which make them not ideal for using in glass containers.
My base: Fractionated coconut oil
I ended up going with fractionated coconut oil in the end for this batch because it is clear, which I thought would work best in my blue mason jar, and it is extremely thin making it perfect for reed diffusers.
The typical coconut oil that most people are familiar with is a solid at room temperature. Fractionated coconut oil is a more processed version of coconut oil that results in the oil being both clear and a liquid at room temperature.
Essential Oils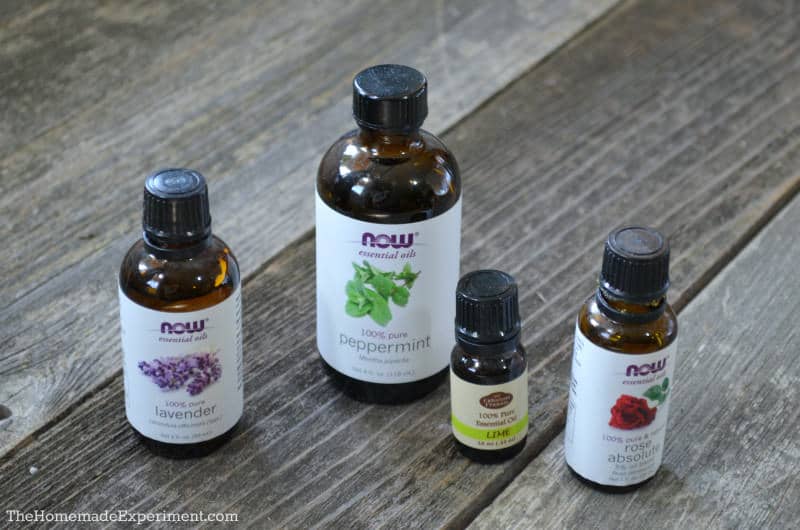 Next choose your essential oil or oils that you would like to use. Since this is what is going to be wafting around your house start by picking one of your favorite scents.
However, as far as I'm concerned Peppermint Essential Oil is always a good place to start. You can use pretty much any essential oil that you would like.
Here are a few of my favorite options:
Pine
Peppermint
Spearmint
Lavender
Rose
Try an essential oils starter set for a bunch of options for your batch of diffuser oil!
Try starting with scent you already know you love. By starting with a scent you know you like you can dial in how strong you like your diffuser oil in the most pleasant way possible.
A simple way to test if essential oils will go well together is to take off their lids and place them closely together wafting the air above them towards you.
If it smells terrible, lol, you've discovered a great scent combo to not make into diffuser oil. If one oil smells more strongly than another consider using less of it compared to your other essential oils when creating your diffuser oil.
In the end the best way to find what works is to try, try, try, so get out your oils and get experimenting!
It's really hard to go wrong when selecting essential oils for a diffuser so don't stress, even if it smells terrible you can just start over! Just start playing around with essential oils that you like and see how they work out in a diffuser oil.
Alcohol (Optional)
Alcohol is an optional ingredient in my opinion. Many reed diffuser oil recipes recommend including alcohol to thin the oils and help your diffuser oil to be draw up the reeds. I have gotten great results without using alcohol.
I would recommend giving it a shot first without using any alcohol.
If you find that the oil is not getting drawn up the reeds or not getting drawn up at the speed at which you would like then try adding in a little vodka to help the wicking process.
How To Make Reed Diffuser Oil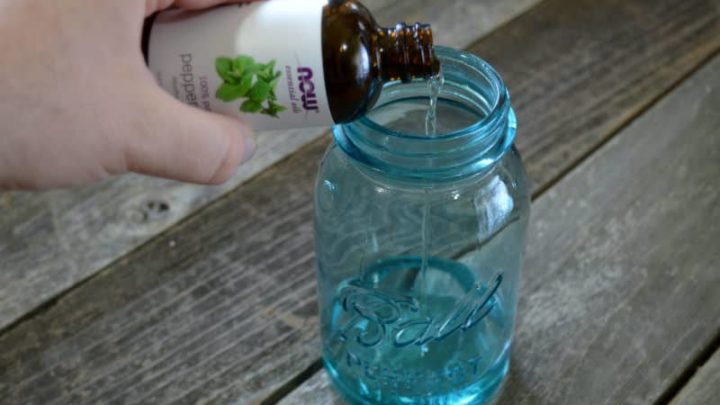 How to make a quick reed diffuser refill with fractionated coconut oil and essential oils.
Ingredients
1/2 cup fractionated coconut oil (or other base oil)
30-50 drops of essential oil depending on strength of the oil(s) chosen
Container for mixing
Instructions
Pour 1/2 cup of fractionated coconut oil into container.
Add 30-50 drops of essential oils.
Mix fractionated coconut oil and essential oils together.
Enjoy your batch of reed diffuser oil in your favorite diffuser.
Notes
To use your diffuser oil you'll need to add it to your favorite reed diffuser or make your own. Read my post How to Make a DIY Reed Diffuser for directions.
---
If you found this post helpful please share it or say hi in the comments below.
Thanks for reading,
Lance