Easy DIY Essential Oil Reed Diffuser
If you're looking to fill your home with delightful scents that will waft gently around your home but are looking to avoid the smoke that comes with candles, then making your own homemade reed diffuser is the way to go.
I remember seeing reed diffusers pop up in magazines and fancy home good stores before becoming such a staple of home decor that you could find some cheap version of a reed diffuser in nearly any store.
The problem is that some of the available reed diffusers have unneeded chemicals you might not want floating around your home in the air that you and your family breath everyday.
Plus, making them for yourself is way more fun, not to mention you can make your own diffuser with the perfect scent that reflects you and your home.
So, let's dive into it and make our own homemade essential oil reed diffuser. You can also read my list post of various homemade essential oil diffuser recipes if you are looking for a non reed option.
Related Posts:
8 Homemade Diffuser Recipes
Make a Reed Diffuser Oil Refill
How to Make a Homemade Diffuser with Water
Rattan Reed Diffuser Buying Guide
Best Containers for Reed Diffuser
Reed Diffuser Ingredients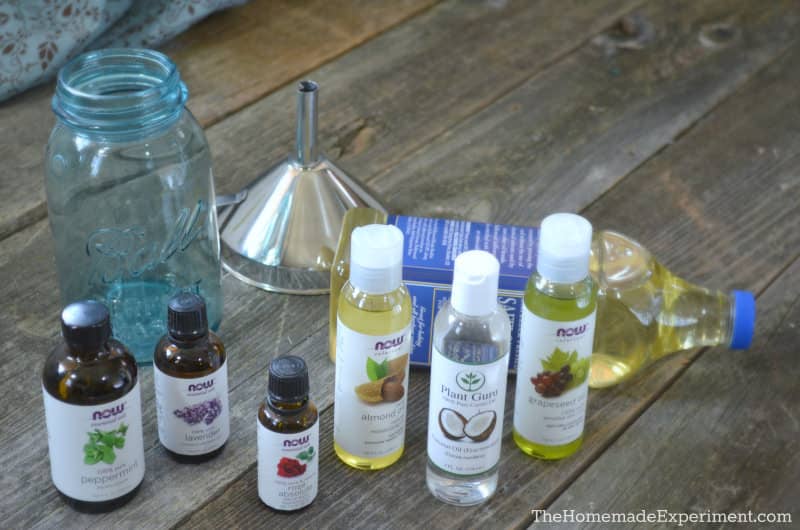 Check out my other post on making homemade diffuser oil for other base oil options.
Ok, that's it, time to make our homemade reed diffuser.
Diffuser Container
Some good options for diffuser containers are very small flower vases or other narrow necked containers such as glass bottles. If you like the mason jar look you can also use one like I did in this post.
Most people recommend using a narrow necked container because it will prevent the diffuser oil from evaporating into the air straight out of the container.
I typically use the wide mouthed mason jar in the pictures of this post as my diffuser container. I don't have any issues with the oil evaporating on its own. I recommend picking whatever container strikes your fancy and giving it a shot.
If you don't want to use a mason jar but are worried about the oil evaporating you can punch holes in a standard mason jar lid and stick your reeds into the jar that way instead!
Add Base Oil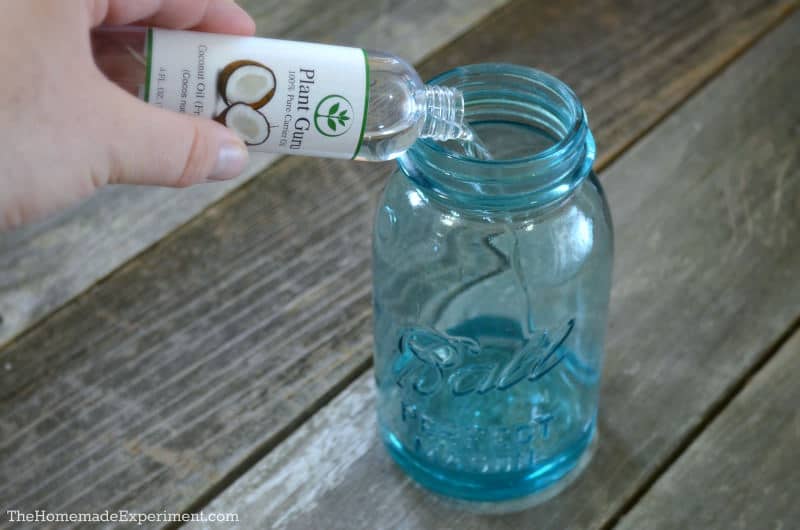 Pour into your container off choice 1/2 cup of base oil, in this case fractionated coconut oil which I chose because of its clear color and because it is one of the thinner base oils you can use helping it to wick extremely well up reeds.
If you want to learn a little more about other diffuser base oil options read my post on making homemade diffuser oil.
Add Essential Oil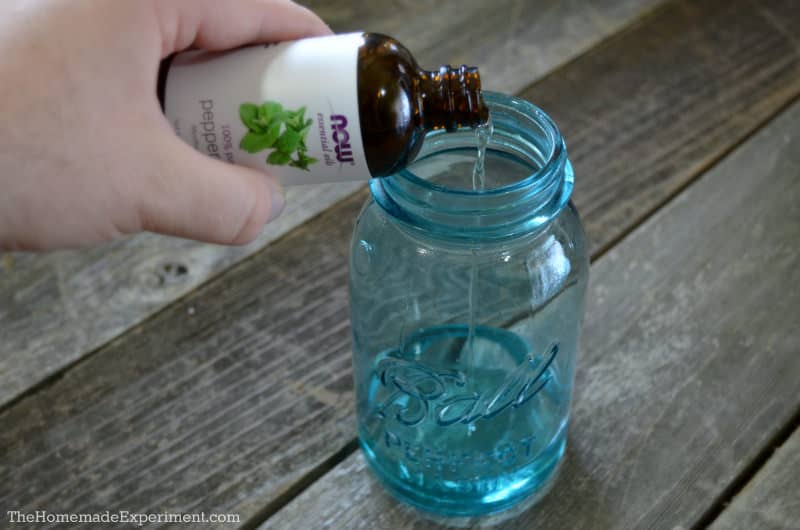 Now splash in 30 – 50 drops of your essential oil(s) of choice! Since I'm in a very pepperminty mood I'm just using peppermint essential oil in this batch.
Do get creative though. It's fun to experiment with different scent combinations. A good quick way to test if essential oils will go well together is to take off the lids of the essential oils you are thinking about combining and place them closely together.
Then, waft the air above them towards you. If it smells terrible, lol, stop and never repeat.
If the scent is off balance, as in one oil comes across more strongly than another then it is fairly safe to say that when combining them you will want to use less of the overpowering scent. That being said the best way to find what works is to try, try, try, so get experimenting!
Try picking up an essential oils starter set to give yourself some options!
Add Reeds
Next add into the container 5-10 rattan reeds. The fewer reeds you add the less scent you will produce. Reed count combined with how much essential oil you have added to the mixture will determine how fragrant your diffuser is.
If this is your first time making a reed diffuser I would recommend starting by adding only 5 reeds.
Once the reeds have drawn oil up to their tips (they will be visibly wet and somewhat shiny) you can asses how much scent is being released into the room and add more reeds if you want it to smell a bit stronger.
If you are using 10 diffuser reeds it doesn't seem to be as strong as you would like then try adding some more essential oils to your diffuser oil. This way more of the scent carrying essential oil will be drawn up and diffused at a time.
Be sure to also check out my rattan reed buying guide for some other reed color options as well as some really nice wavy more organically shaped reeds.
What are diffuser sticks made of?
Generally reed diffuser sticks are made from rattan. Rattan is a vine-like plant primarily found in Indonesia. Each rattan stem contains more than 20 small channels which are ideal fo drawing up and diffusing essential oils.
Enjoy!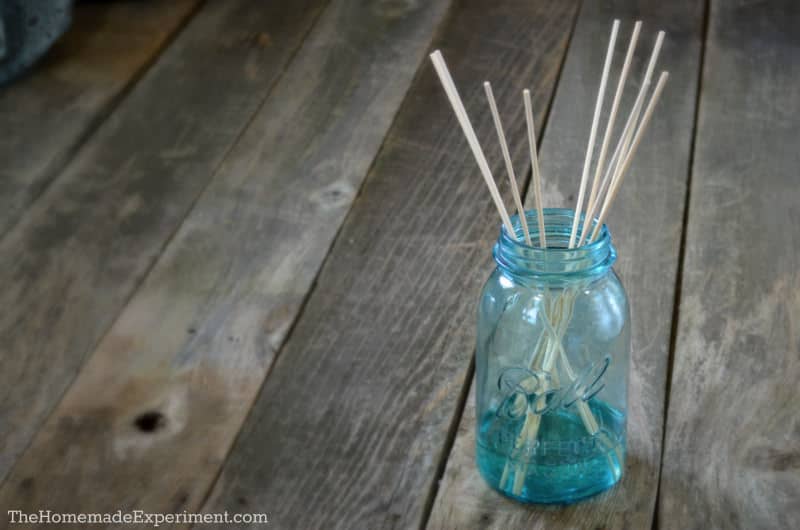 That's it, easy peasy huh!? Depending on how big of a batch and what oils you choose to use your diffuser oil can last several months.
Remember to flip your reeds, over time diffuser reeds will let off less scent.
As you notice the scent declining flip your reeds to help the oil continue flowing. Overtime the reeds will become clogged with dust and stop working, when this happens simply swap them out for some fresh reeds and keep your diy diffuser smelling great!
How Well Does This Homemade Reed Diffuser Work?
This reed diffuser is working very well for me as we speak. I am happy to say that this reed diffuser works very well without needing to add alcohol into the mixture as others recommend.
The reeds have easily wicked the diffuser oil and it is making my living room smell minty fresh as I type. This is a great diffuser that I will definitely continue to make for years to come.
---
Please share this post if you found it helpful or leave a comment below to say hi!
Lance